 Chanel Iman at DKNY's Golden Delicious million dollar fragrance bottle unveiling at the DKNY store in New York City on December 5, 2011. Photo: Slaven Vlasic/Getty Images
Over the years, I've become quite the perfume girl, collecting scents for every mood, season and just because they look too darn pretty on my dresser. But I'm still amazed by my latest discovery.
I headed to DKNY's Madison Avenue store last night where Chanel Iman unveiled the world's first-ever million-dollar fragrance bottle. The 21-year-old runway and print model -- who was escorted by an entourage of "Men in Black" -- waltzed in with the luxurious Golden Delicious perfume locked away in a black briefcase.
Designed by celebrity jeweler Martin Katz, the apple-shaped bottle is carved from polished 14-karat yellow and white gold and features 2,700 round brilliant white diamonds and 183 golden yellow sapphires in a micro pave setting to create the Manhattan skyline. And it's topped with a 2.43 carat yellow canary diamond.
The million dollar DKNY fragrance will be available for sale on the brand's Facebook page with net proceeds benefiting the global charity Action Against Hunger.
In addition to the over-the-top bottle, Iman believes the scent's appealing blend of notes like apple, white rose, musk and sandalwood also makes it lavish.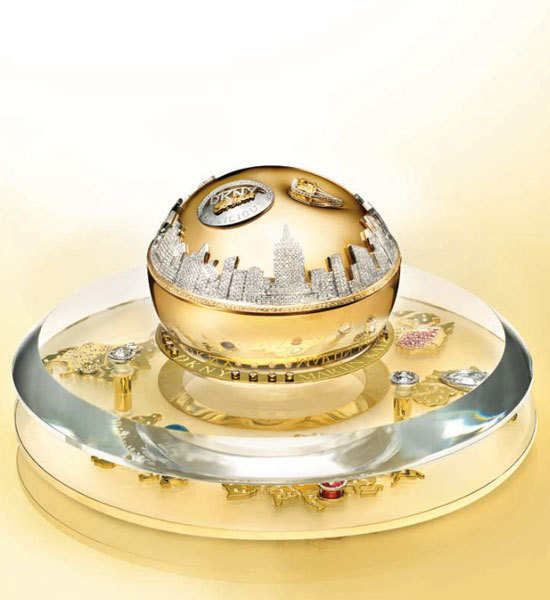 "Golden Delicious is the most regal out of the entire Delicious fragrance collection. It's very rich and it leaves you feeling sensual and warm," she said.
Reflecting on her first fragrance memory, she admits it took some time, trial and error to learn just how much to spritz on.
"I remember going into my grandmother's dresser and pulling out all of her perfumes," she said. "My cousins would tease me because I'd come out smelling really old. And they'd say, 'Go take a shower and take off all Grandmommy's fragrance because you smell like an old person!'"
Luckily, an older cousin introduced Iman to the crisp, fruity-floral DKNY Be Delicious.

She explains, "It was a bit more young and I didn't smell strong as my cousins would say."
Still glowing from celebrating her 21st birthday on a private island in Jamaica, we had to get the deets on what the experience was like, and of course, what she had to drink.
"I had the craziest party. I just love the culture, reggae and everything! I had lots of rum!" said Iman. "There were fire jugglers, dancers and I had the best DJ."
She adds, "For my birthday party, I wore this beautiful vintage Oscar de la Renta dress, and because I was in Jamaica, I brought along bronzer to look extra golden.
Want more of the hot young model? Click through the gallery below to see how Iman's red carpet style has evolved over the years.
CELEBRITY RELATED LINKS YOU MAY LOVE

Stars' Ugly Christmas Sweaters - The Daily Beast

Beyonce Loves Her Maternity Jeans - People Style Watch

Makeovers, Kardashian-Style - Glamour

Vote For The Celebrity Street Style Star of the Year - FabSugar