What the fug?
Fergie hit the red carpet last night for "A Night Of Firsts," an evening presented Hollywood Foreign Press Association and InStyle. Unfortunately we have a hard time designating her outfit as anywhere near "in style." We're not trying to be mean -- we're just seriously confused.
For the party, the pop star chose a short strapless dress. Fine. But the dress, by the ever-inventive Jean-Charles de Castelbajac, featured a giant black bow. And the metallic printed face of Felix the Cat. And it was not zipped up the back.
First, let's talk about Felix. We don't mind the occasional animal on a garment (Lord knows the fashion world adored those Givenchy rottweiler sweaters), but a animated cat just reminds us too much of those silly cartoon ties our male school teachers used to wear.
Second, let's discuss the back. Presumably, Fergie special ordered this dress (when's the last time you saw a Jean-Charles de Castelbajac cat dress hanging in a store?). So why wouldn't she order the right size? Better yet: when she was zipping up the dress before leaving the house, didn't she realize it simply was not fit to wear?
But we are not personally acquainted with Fergie and thus our questions must go unanswered. In the meantime, check out the whole get-up below... and obviously share your (kindly worded) thoughts in the comments.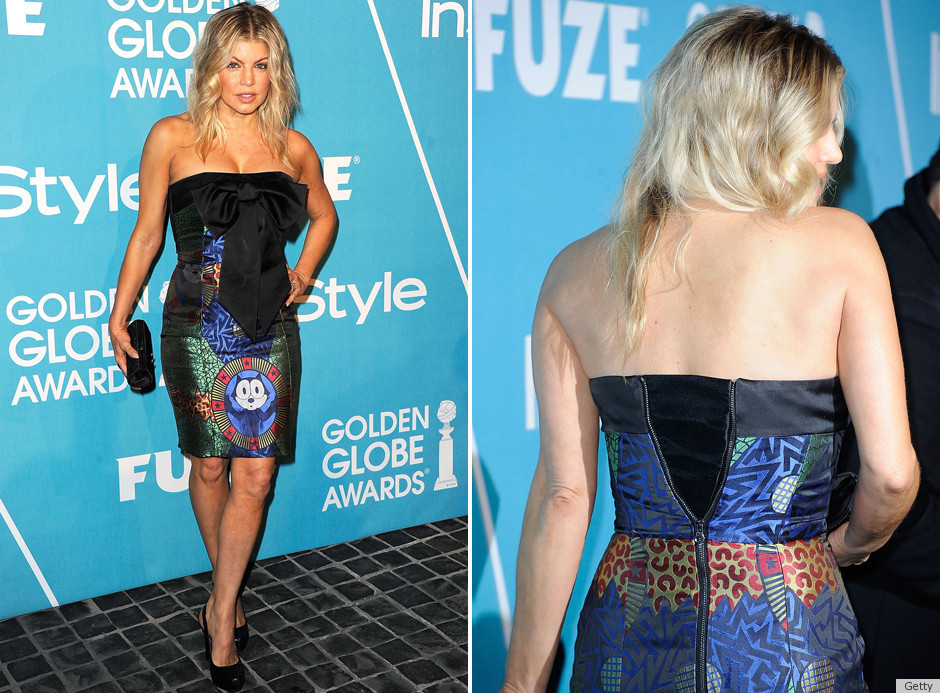 PHOTO GALLERY
Fergie and Felix the Cat