Hanukkah Lamps Selected By Maurice Sendak
When: December 2-January 29
Where: The Jewish Museum, 1109 5th Avenue; (212) 423-3200
Price: Adults $12, Children under 12 free
Famed children's writer and artist Maurice Sendak has chosen a series of Hanukkah lamps from The Jewish Museum's wide collection to curate a special exhibition for the holiday season. Sendak's picks are a "push and pull between beauty and sorrow, light and darkness" and seeks to explore the illustrator's memories of his family, many of who died in the Holocaust.
Yo La Tengo: 8 Nights of Hanukkah
When: December 20-27
Where: Maxwell's, 1039 Washington Street, Hoboken, NJ; (201) 653-1703
Yo La Tengo returns to Maxwell's for their annual 8 Nights of Hanukkah concerts, where the longtime Hoboken residents continue their tradition of music, special guests, and proceeds to the group's favorite charities. Last year's festivities brought out Jeff Tweedy and The National to name a few.
2011 Major League Dreidel
When: December 17, 6PM
Where: The Knitting Factory, 361 Metropolitan Avenue, Brooklyn; (347) 529-6696
Price: $10-$15
Spin your best dreidel at The Knitting Factory's "heavyweight spin-off" and enjoy music from Hanukkah Gone Metal bands Gods of Fire, Category Sixx, and more. As the event touts, "synagogue side is where it's at" so make it out for the showdown.
CHERYL Does Chanukah
When: December 15, 8PM-11PM
Where: The Jewish Museum, 1109 5th Avenue; (212) 423-3200
Price: $12 in advance, $15 at the door
The cat-masked party quartet, CHERYL, takes their joyous celebrations to The Jewish Museum for an all out Hanukkah festivity complete with video projections, costumes, and a DJ. Open bar with beer and wine from 8PM-9PM.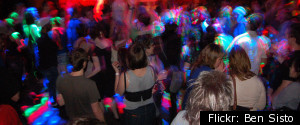 Chanukah On Ice
When: December 20, 6PM-9PM
Where: Trump Wollman Rink, Central Park South entrance (59th Street and Sixth Avenue)
Price: Adult $22, Children $18 (online) Adult $25, Children $20 (at the door)
Get this: Maccabeats, holiday ice skating, and a giant hand-carved ice menorah. What more can you want in a Hanukkah celebration? Brought to you by Chabad on the West Side, the first night of the holiday will sure to be a fun-filled, winter event chock full of complimentary Kosher food.
Beer + Latke Hanukkah Celebration
When: December 22, 7PM
Where: 92YTribeca, 200 Hudson Street; (212) 601-1000
Price: $18
Head to 92nd Y's Tribeca location for a refreshing and delicious combination of beer and latkes. Brooklyn Brewery's Dan Moss will be present to lend his expertise for the beer tastings. Head chef of 92YTribeca Russell Moss will also be cooking up some unique latke recipes.
Matisyahu
When: December 19-22
Where: Music Hall of Williamsburg, 66 N. 6th Street, Brooklyn; Webster Hall, 125 E. 11th Street
Price: $35
Jump start the Hanukkah festivities with Matisyahu, as he heads to both the Music Hall of Williamsburg and Webster Hall for a four-night concert series. The "modern day prophet" is in town for his Festival of Light tour and Hanukkah celebration.
Sephardic Music Festival
When: December 20-27
Where: Various venues
Price: Varies
While Matisyahu might be the Jewish community's most well known music artist, there are plenty of others to be spoken for. Check out the annual Sephardic Music Festival which will be showcasing a wide range of musicians from all over the world to shed light on the "less familiar but captivating culture" within the vibrant community. Hip-hop, electro, and dance music are key.
Watch a performance from Yo La Tengo's Hanukkah 2010 concert:
BEFORE YOU GO