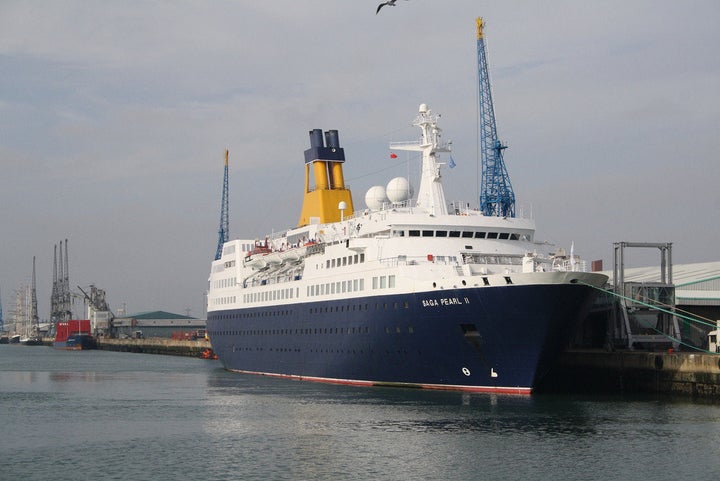 The Saga Ruby is a popular floating resort. The waters are crowded with sea-worthy vessels, so to make planning easier, we've done all the prep work for a cruise vacation. As part of a HuffPost Travel series on cruise ships, here is a tip sheet offering all the key information one could ever need to know about the Saga Ruby. --Joan Russell
Destination
The
offers voyages ranging from four to 34 days. The ship departs from ports such as Dover and Southampton, England. Its many destinations include Africa, the Canary Islands, the Caribbean, Greenland, Iceland, Scandinavia, England, Ireland and the Mediterranean.
Passenger Ship
The
is a luxury ship that holds up to 661 passengers. It has a crew of 380, and its service and amenities are geared toward adult and senior travelers.
Special Features
Some of the many exciting
on the Saga Ruby include dance classes at the ship's ballroom, a variety of shows and afternoon tea. The ship also has a theater, spa, library, computer center and cafe to accommodate the diverse interests of its passengers.
Accommodations
The Saga Ruby has what's known as "twin cabins" that come with baths or showers. These cabins have twin beds that can be converted to a king-size bed. Other amenities in the cabins include a TV, refrigerator, DVD player, telephone and hair dryer. Luxury cabins or suites come with a private balcony, whirlpool bath and shower, large bed and all the other amenities of a twin cabin.
Cost
Four- to seven-day cruises on the Saga Ruby will range from about $890 to $1,800 per person. Fourteen- to 19-day cruises range in price from about $2,850 to $4,460. Cruises that last 24 or 25 days range from about $4,905 to $8,175.
Excursions
The Saga Ruby offers a variety of exciting excursions for travelers. One passenger raved to
about the exotic ports visited by the ship, and was especially enthusiastic about a tour of St. Petersburg, Russia. According to the passenger, "All the tours were enjoyable, extremely well organized and quite reasonably priced."
Dining Experience
The Saga Ruby
a full breakfast, hot and cold lunch buffets and dinner with a sommelier to help you choose the perfect wine. If you get hungry late at night, enjoy the late-night buffet with sandwiches, pastries and cakes. The ship has variety of food and drinks to suit all tastes.
Maiden Voyage
The ship made its maiden voyage in 1973 as Vistafjord. It was renamed Caronia by Cunard in 1999, and then purchased by Saga and renamed Saga Ruby in 2003. The ship was extensively renovated at a cost of $30 million.
In The News
Our research revealed no notable news stories or safety concerns regarding the Saga Ruby.
The Saga Ruby sets off from Road Harbor in the British Virgin Islands.

What's your favorite cruise memory?