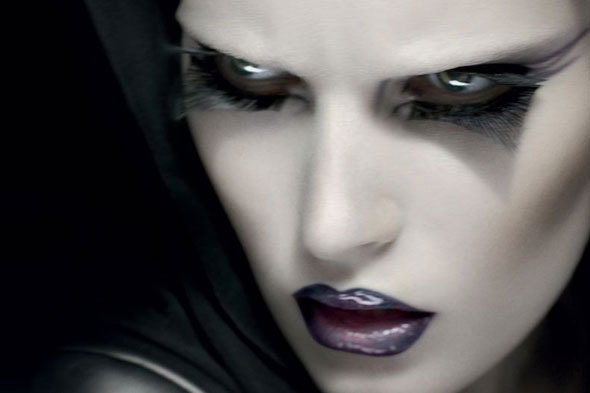 Makeup look created using Gareth Pugh for MAC Cosmetics makeup collection. Photo courtesy of MAC Cosmetics.
When the Gareth Pugh for MAC Cosmetics makeup collection landed on my desk, I couldn't help but squeal with excitement. The English fashion designer, who is known for his dark and dramatic pieces, kept the beauty products under wraps since news leaked back in June.
Now that I've got my hands on the coveted collaboration, the first question that came to mind was, "How do I apply these products without looking intimidating?" According to MAC Cosmetics Senior Artist Romero Jennings, it's all about the subtle nuances.
Read on as Jennings shares his pro tricks on how to wear Pugh's moody makeup.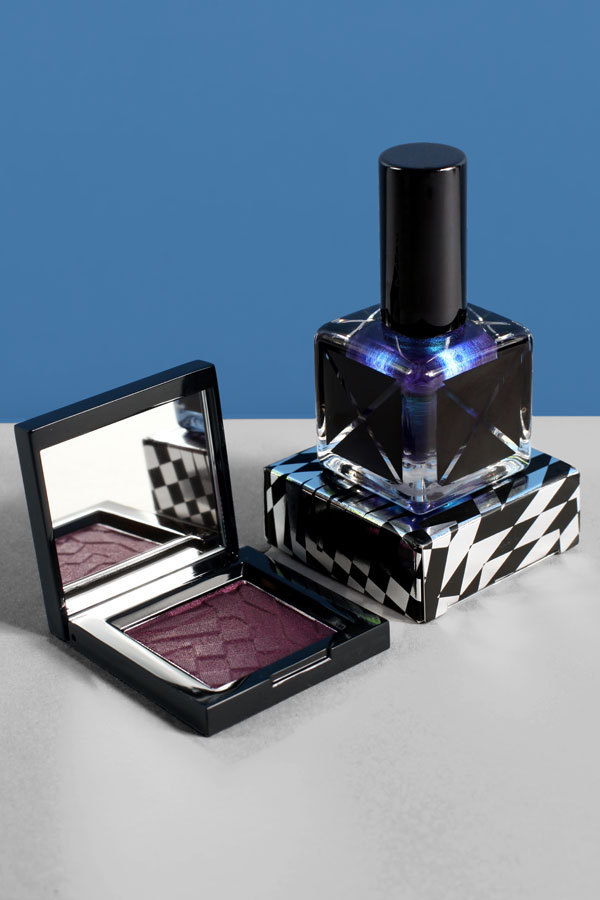 Gareth Pugh for MAC Cosmetics Metal-X Cream Shadow and Nail Lacquer. Photo courtesy of MAC Cosmetics.
Metal-X Cream Shadows:
"These deep eyeshadows are perfect to use as a light smokey lid. Take a soft brush like MAC #224, dip into the shadow and sweep in a back-and-forth movement. Add mascara and skip liner to keep it fresh.
Nail Lacquers:
"If there's such a thing as 4-D, these nail polishes are it! They're a great way to dress up your look for the holidays."
Powder Blush:
"This blush is easy to wear on different complexions. On dark skin tones, I use as a highlighter. While on women with lighter skin, it helps to create a natural flush."
Lipsticks:
"Lately, these have saved me when I'm pressed for time with red carpet events. First, I line the entire lip with a MAC Pro Longwear Lip Pencil which expands and fills in creases. Then I apply the berry satin lipstick on top to achieve a deep finish that isn't heavy."
Lash:
"These lashes are a bit extreme and you have to know where to apply. Seek the help of a professional artist who can suggest layering and cutting techniques, and be sure to curl lashes and layer with mascara for a doll-like look."
Gareth Pugh for MAC Cosmetics is available only while products last through December 23 at stores and online.
Meanwhile, find out the inspiration behind style icon Daphne Guinness' MAC Cosmetics makeup collection.