A collective of 46 artists has come together to contribute black-and-white images for the new Police Brutality Coloring Book. The 48-page DIY publication was inspired by tensions between the Occupy Wall Street protesters and local law enforcement.
"I wasn't directly involved with the movement, but I had been down there a few times and was sympathetic to the cause," Joe Heaps Nelson, creator of the book, told Wired.com. As a project, the work naturally came together through a network of artists and protesters who had stories of their own to tell.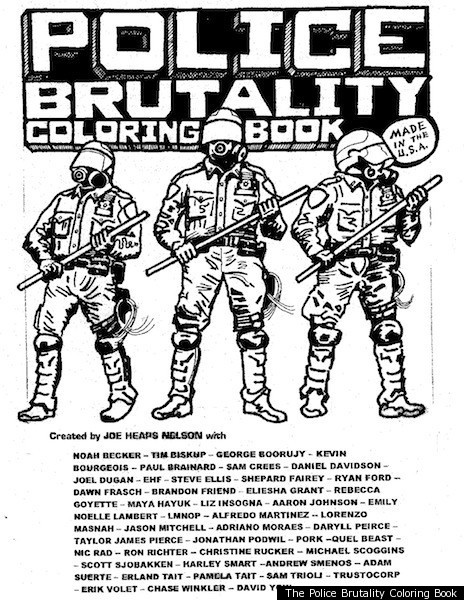 Chelsea Elliott, one of four women who were infamously pepper-sprayed at a September protest march, knew Nelson through an acquaintance and that's when things started coming together.
"I am outraged at how the police are treating people," Nelson said, "and moral outrage is not my default setting. And then when I saw that guy at Cal Davis [University of California at Davis campus police Lt. John Pike] calmly spray those kids in the face, I knew I had to do something."
Nelson started contacting artists he knew and artists that he had heard of through the various protests. Nelson enlisted his friend Noah Becker, Huffington Post contributor and editor of arts website Whitehot Magazine to help with the project. "I did a drawing in about 15 minutes during our meeting," Becker said, "and in the midst of me drawing, Shepard Fairey called to say he was really excited about the idea. Then things just took off."
Having been arrested 16 times, Fairey became the perfect candidate for the project. Fairey told Wired.com "the coloring book idea is great because it should be such a sweet, kid-friendly format, but when you're dealing with a subject as serious as police brutality, the irony sort of heightens the effect."
View a slideshow of the artwork below.
PHOTO GALLERY
BEFORE YOU GO
The Police Brutality Coloring Book
PHOTO GALLERY
The Police Brutality Coloring Book