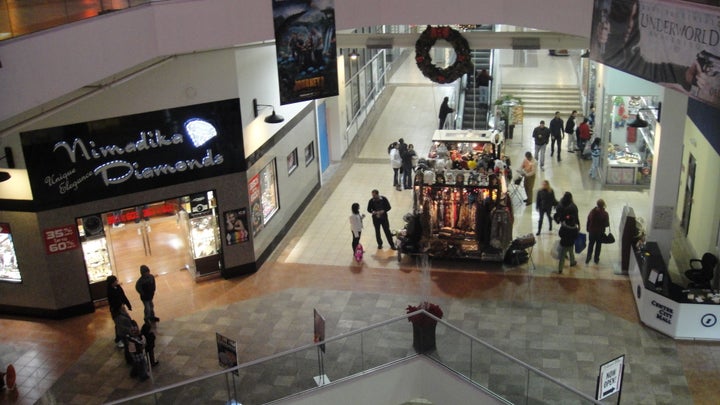 PATERSON, N.J. -- On a Saturday in mid-December, one of the busiest shopping days of the year in a nation famous for insatiable consumption, the Center City mall was strangely tranquil.
Mohammed Shakeel, age 43, sat behind the counter of Kids Corner Toys, haggling with a customer. He agreed to drop the price of a Mickey Mouse bookbag from $15 to $10, but the would-be buyer walked away.
"There is no purchasing power," Shakeel sighed, as another potential sale evaporated. "Today should be busy. It's just like any other Saturday."
Despite a jolly Santa Claus, audible carols and hanging wreaths, one big holiday tradition was missing at Center City -- shopping. Kids Corner Toys has seen its business dip by about one-fifth this year, according to Shakeel. A half hour drive away at the luxurious Mall at Short Hills, the parking lots were packed as shoppers poured in to visit Miu Miu, Chanel and Neiman Marcus. But in Paterson, New Jersey's third largest city and a community rife with joblessness and economic anxiety, the mall seemed desolate by comparison.
Only a few years ago, in the midst of a national real estate boom, Paterson and myriad other American communities embraced shopping malls and spreads of new condominiums as portals to economic growth, hoping that construction jobs and retail could transcend the post-industrial urban decay that had gripped them for a half-century. Now, with little hope that consumer life will snap back to its pre-recession incarnation anytime soon, the future of such developments is uncertain.
Paterson's Center City mall -- first proposed in flush 2003, and completed in the fall of 2008 -- is a relic of another economic era, one that promised all but the poorest Americans rights to home ownership, credit cards and jobs. Today these rights have been effectively revoked. Yet the mall remains.
What happens when you bet the future on retail and shopping money dries up? Paterson offers some answers. Homeless people take over some of the massage chairs. Alternative retailers with a local flavor pop up in storefronts that are cheap and easy to procure. The busiest days at the cash register tend to coincide with when the state hands out public assistance. Window-shopping replaces the real version, as the mall becomes a community gathering place more than a center of consumption.
That fact that the mall does remain -- and is currently 75 percent occupied -- is a feat largely credited to Efstathios "Steve" Valiotis, the largest landowner in Paterson and one of the wealthiest Greeks in America. Valiotis, 64, has invested more than $200 million to revive the city's dilapidated historic district, a hauntingly beautiful reminder of Paterson's past as the center of American silk production. One hundred thirty million dollars was spent transforming what used to be an empty parking lot across from the courthouse into Center City, according to Ekaterina Valiotis, his daughter and the mall's general manager.
The mall was to be the "new life of Paterson," declared Valiotis' partner, Nick Tsapatsaris. "The industrial Paterson is gone," he told the New Jersey Herald in 2007. "This is the future economy: retail, entertainment, service jobs."
But when the mall opened the following year, the world was gripped by the prospect of synchronized financial meltdown. Brand names like Lehman Brothers and Merrill Lynch eclipsed those of Best Buy and Bed, Bath & Beyond. The doors opened for a "soft opening" smack in the middle of the weakest holiday shopping season in recent history.
An immigrant from Vordonia, Greece, Valiotis and his family frequently attest to an enduring belief in Paterson, despite the challenges. They are optimistic about the mall's future.
"It's like our second home base," said Ekaterina Valiotis, 25. "You come here for business and then you fall in love with it. We're here to stay."
In many ways, the Valiotis family epitomizes the American Dream, to which many Paterson residents -- 30 percent of them immigrants themselves -- also aspire. But the recession has done much to quell hopes of economic mobility. Though New Jersey remains one of the wealthiest states overall, with the fourth-highest household income in the country, cities like Paterson, Camden and Passaic tell a different story.
Sam Yilmaz, 50, who immigrated to the U.S. from Turkey, has also done well for himself. He owns several businesses in the area, including the Citi Casuals clothing store in Center City. But business has been so bad since 2008 that he is considering returning to his home country next year if sales at his Paterson and Secaucus, New Jersey locations don't improve.
The business "didn't turn out to be a good idea," he said recently at his store in the mall. "It's slow, like the economy. Even at Christmas everyone is waiting until the last minute to shop. Unless they have to, they don't want to spend any money."
Yilmaz signed a temporary holiday lease at Center City, which he does not plan to renew. His store plans to vacate in January, leaving another pockmark in the skin of the nascent mall.
Ekaterina Valiotis described Center City as "a baby on formula." Despite its less than stellar occupancy rate -- 75 percent, compared to a 90.6 percent average nationwide -- Valiotis said that the 320,000 square foot property is successful when compared to many other new developments, who either stalled or closed completely in the wake of the recession.
Since Center City opened in 2008 with only one store -- the PSE&G gas and electric payment center -- the two Valiotis and fellow developer Nick Tsapatsaris have wooed national chains like Marshalls, PayHalf, Skechers and AT&T. These chains have actually seen a 20 percent increase in sales this year, Valiotis said.
"It's been an uphill battle," she said. "The good thing that we noticed, the good part of the recession if there's such a thing, is that we explored alternative uses a lot more than we intended to."
The alternatives have featured local ventures that in better days might well have been priced out of prime mall space. At the Center City mall, retail space can be leased for as little as $21 per square foot and as much as $35, as compared to the current $38.81 per square foot nationwide average, according to Reis Inc. data.
While at most major malls, managers spend much of their time courting brand name anchor tenants and then keeping them happy, at Center City, Ekaterina Valiotis expends a lot of effort helping small, local ventures like Shakeel's get established.
"We do a lot of handholding," Ekaterina Valiotis said. "We're a tight knit community. Our office is across the street. We're like family here."
Unlike many more established malls, Center City has lived up to its promise of being a community space as well as a shopping site. Locals relax in massage chairs, play baseball at the "It's a Hit" batting cages, see movies at the Fabian 8 Cinema, play basketball in the arcade and take painting classes at the Center City Galleries. One can easily spend a day in Center City without feeling pressured to shop.
The problem is, many do just that. Retailers, of course, are eager to find ways to convince people to do more than just hang out.
Nicola Nucci, 31, one of the co-founders of Center City Galleries, an art gallery and studio space in the mall, says the mentality of the consumer in Paterson is completely different than in other malls.
"Business is great on the first day of the month when people get their welfare checks," Nucci said. "Otherwise, it's not as shoppy as you might think."
The mall is situated in the city's downtown, giving it a degree of built-in foot traffic, but many of those in the vicinity are struggling just to keep themselves under a roof -- never mind the temptation to amass art. You have "people from the courts, people from social services," Nucci said. "From legal services, homeless people."
With so many people living paycheck to paycheck, the holiday season -- when most retailers plan for a great surge of buying -- provides little pop here.
"People don't plan ahead of time for Christmas here," Nucci said.
Nucci, a painter and interior designer, helped start the gallery two years ago, when her co-founder pitched Steve Valiotis on a shop that would feature works by local artists. She has tapped the colorful mix of passersby as a source of art, recruiting people she meets in the mall to create work. Artists regularly work and hang out in the gallery, visiting with shoppers and explaining the concept.
Earlier this year, Nucci found a hit with "Tina Babies" -- homemade stuffed animals dressed in infant clothing crafted by a woman named Tina, who was then pregnant and living in a homeless shelter. She sold enough of her work to be able to move into her own apartment.
Other work by the gallery's 72 artists is highly skilled, but all artists tend to be both from the area and strangers to the art world, said Nucci. Work is priced to the Paterson market -- $22 for an aluminum cross sculpture, $60 for a painting, for example.
Asked whether the gallery was making money, Nucci responded: "We're still here!"
Finances aside, Nucci described Paterson's biggest challenge as its bad reputation as a place of poverty and crime. Profitable or not, she thinks the shopping center is a step in the right direction.
"Things were much worse before the mall," she said.
A LIGHT IN THE BLACK HOLE
Ekaterina Valiotis, the mall's manager, said she hopes Center City will be filled in the next 16 to 18 months, noting that chain retailers are beginning to explore new urban markets all over the U.S.
But even if occupancy rate increases and rents rise, Valiotis asserted that the identity of the mall has been permanently colored by the circumstances of its launching: She plans to maintain the community focus, and the tight relationship with local businesses like Nucci's.
"We've been really embraced by our local community because we opened in times when stores were closing," she said. "We couldn't have left the center of downtown as a construction zone."
"The mall," she added, "is a huge light in the black hole of an economy."
But others question whether expanded retail was ever a wise development path for a community that has been chronically short of jobs ever since manufacturing work began drying up decades ago. The community needs affordable housing and decent paychecks, not Starbucks and Macy's, in this view.
Michael Sherman, 49, a Center City Galleries artist and area native, wonders how a mall filled with chain stores could serve Paterson residents, who, like him, live on the margins.
"I'm on welfare," he said. "I don't have any money. I'm totally desperate. I'm in the process of getting evicted from my house and potentially losing all my paintings."
"Who does a mall or condos really serve?" he asked. "Does it improve the situation for Paterson residents?"
On the second to last Saturday before Christmas, Center City was busier than it had been the week earlier, as expected. Even people with limited spending power were using what cash they had to celebrate the holiday.
Ekaterina Valiotis taught a free art class for kids in one of the vacant spaces.
Michael Sherman waited for customers at his portraiture stand in Center City Galleries.
The Gumball Gallery, a new "urban lifestyle boutique" selling clothes and sneakers, had opened in the past week. "Seeking sales associate," a sign read.
So far, the mall has created around 250 jobs, not including construction positions, according to Valiotis. While this is perhaps less than was once expected, the positions are a godsend in the wake of recent employment news in Paterson: 125 police officers laid off in an attempt to allay what was a $70 million municipal budget shortage earlier this year.
On Saturday, Shantel Lisboa, 23, was shopping for Christmas gifts. She was also looking for a job. After moving to Paterson from Sussex County, N.J., this fall, the Passaic County Community College student has been applying to retail positions around the area, hoping that stores would be seeking holiday workers.
Two weeks prior, she came to Center City, but found no openings. Lisboa applied instead to the Hollister Co. store in nearby Willowbrook, a suburban mall that would require a bus commute. She's waiting to hear back about her interview.
Still, a lack of spending money didn't stop Lisboa from coming out to Center City to check out the perfume store, Aroma Mia.
"It's great to have a mall nearby," she said. "I just wish they would put more stores in it."