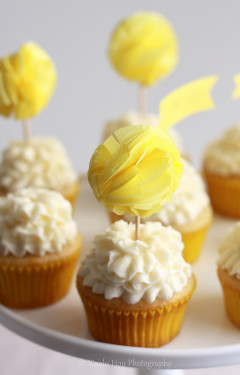 Photo by Xiaolu Hou of 6 Bittersweets
Cupcakes look delicious as is, but why not make them look even better with this Craft Of The Day? The pom-poms are sweet touches that will match cupcakes perfectly.
What You'll Need
Tissue paper
2-inch craft punch
Needle and thread
Scissors
Wooden skewers/toothpicks
Double-stick tape
How To Make It
1. Use the craft-punch to cut out 30 circles (the amount needed for one pom-pom).
2. Sew through the middle of 30 stacked circles, tie a knot on either side and cut away the excess thread.
3. Use scissors to cut eight evenly spaced lines into the circles.
4. Attach the skewer to the pom-pom using double-stick tape.
5. Fluff the tissue paper until the pom-pom is full.
For a complete photo tutorial, visit 6 Bittersweets. And, be sure to check out the other great crafts in our Craft Of The Day slideshow below.
PHOTO GALLERY
Craft Of The Day