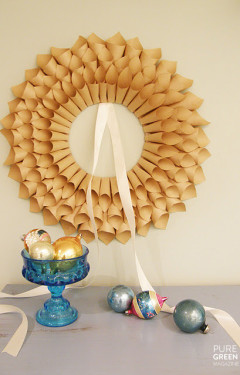 Photo Courtesy of Pure Green Magazine, a print publication for stylish green living
Still have a ton of wrapping paper you need to use up? Try out this Craft Of The Day and make this fantastic paper wreath. We like the use of plain craft paper, but you can use whatever paper you have lying around - wrapping paper, newspaper or book pages. Each style will give the end wreath a completely different look, so just choose your favorite!
What You'll Need
Cardboard
Scissors
Paper
Tape
Glue
How To Make It (Courtesy of Pure Green Magazine)
1. Using some recycled cardboad, cut a 16" circle. Within that circle, 2" from the outside edge, draw another circle and cut out the center.
2. Measure and cut 4.5" squares of paper (the amount will depend on how big you want your wreath to be), but for a 16" wreath you'll need about 36.
3. Gently shape the squares into cones and use clear tape to secure. Glue onto the wreath about 1" from the outside edge, using a hot gluegun.
4. Cut 36 more squares of paper, this time at 4", shape into cones and layer in between your first row.
5. Cut 36 more squares at 3.5", shape into cones, and again, layer in between the previous row. This time, leave a short tail hanging off the inside edge of the wreath. Wrap the tail under the wreath, and secure. This will finish your inside edge. You're done!
For more easy green crafts, you can subscribe to Pure Green Magazine here. And, be sure to check out the other great crafts in our Craft Of The Day slideshow below.
PHOTO GALLERY
Craft Of The Day