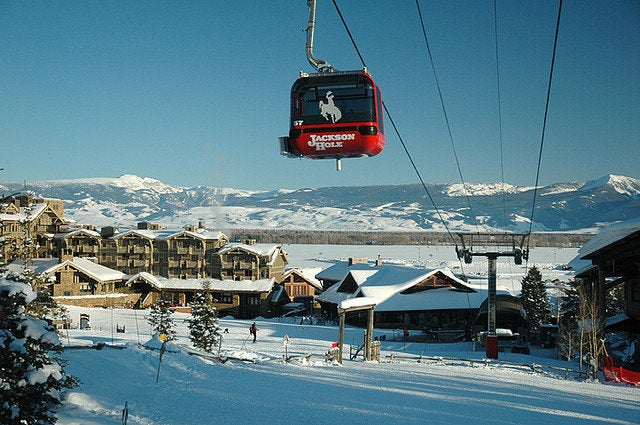 is known for its awesome
, including steep runs and big drops that can even get the heart of experts thumping wildly. Lately though, the family-owned resort, which is set against a backdrop of stunning mountains, has also worked hard to attract less experienced skiers by tailoring slopes to the beginner and intermediate levels. This award-winning resort is located in Teton Village, Wyoming, about 12 miles from the town of Jackson and 40 minutes from the Jackson Hole Airport, which is serviced by
from six major cities: Atlanta, Chicago, Dallas, Denver, Los Angeles and Salt Lake City.
Jackson Hole Mountain Resort consists of
-- Apre Vous Mountain, which offers some of the relatively easier runs, and towering Rendezvous Mountain. The resort's highest point is 10,450 feet, and it features the
of any ski resort in the United States at 4,139 feet. The mountains receive an average of 475 inches of snow a year, but just in case it's needed, the resort also has its own snowmaking capability. Depending on the weather conditions, Jackson Hole Mountain Resort's
typically runs from late November or early December through early April.
Jackson Hole Mountain Resort is home to 116 named
, but the resort is also known for having acre after acre of challenging
. Of the named trails, 50 percent are rated expert, 40 percent intermediate and 10 percent beginner.
, which starts with a vertical drop of 20 feet, is one of the resort's most infamous and difficult trails. As befitting a resort of its award-winning stature, Jackson Hole's numerous
are state-of-the-art. They include one 100-passenger aerial tram, a high-speed eight-passenger gondola, two detachable quads, four fixed grip quads, two triples, two doubles and one magic carpet. In addition, Jackson Hole has two terrain parks, one for beginners and one for experts.
can be arranged through the resort, but there is no night skiing.
Experts and thrill-seekers have long embraced Jackson Hole Mountain Resort for its pristine backcountry skiing and incredibly difficult and challenging marked and unmarked trails. Numerous world-class snowboarders and skiers, including Tommy Moe and Travis Rice, are considered resort
and call Jackson Hole Mountain Resort their home base. Moe won an Olympic gold medal for downhill skiing in 1994, as well as a silver medal in the super-G. Rice is a snowboarder extraordinaire whose feats have been featured in two movies,
and the
. The resort has also won several awards, including being named the top ski resort in the United States by
in 2011.
also named Jackson Hole No. 1 on its list of Ten Most Challenging Ski Resorts.
Adult lift tickets for a half day range from $59 to $79, depending on the time of year. The price of a
adult pass ranges from $148 to $198. Jackson Hole Mountain Resort's adult season pass begins at $1,595, with discounts for seniors and juniors. A performance ski or snowboard
starts at $37.50 per day for adults and $25.50 for juniors, ages 14 and younger. Helmet rentals are $8. Jackson Hole Mountain Resort also offers
. A beginner all-day ski or snowboard class package starts at $140 for adults and includes rentals and a lift ticket. Children's class packages are also available, with prices varying depending on the child's age and other factors.
Guests will find plenty of eating, drinking and relaxing options at the Jackson Hole Mountain Resort and in Teton Village. Skiers and snowboarders looking to
can stop at one of the two cafes at the resort's base or at one of the five dining facilities located up on the mountains. After a day on the slopes, tired athletes can also hit one of the many
in Teton Village, including the Four Seasons Hotel's spa or Snake River Lodge's Avanyu Spa. For those who prefer their rejuvenation in a shot glass, Teton Village has the
, which was named one of the top 10 hottest apres-ski bars in the world by Forbes Traveler in 2007.