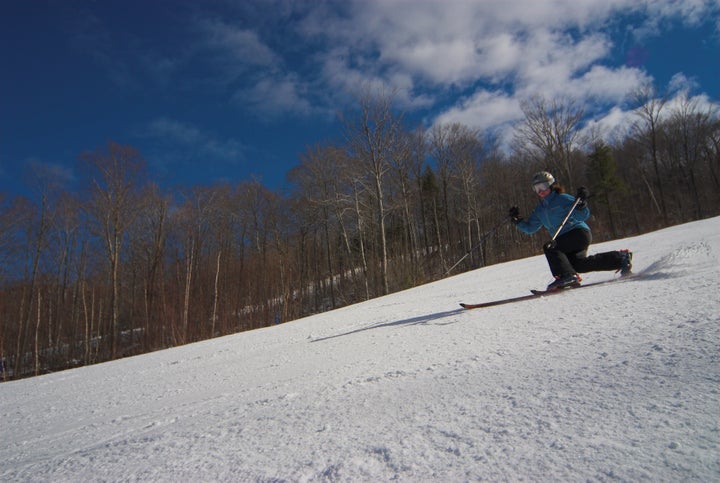 Loon Mountain Resort in New Hampshire is a popular destination for skiers and snowboarders. As part of a series on ski resorts, Huffington Post Travel offers our guide to Loon Mountain Resort, featuring all the key information snow lovers need to know before they hit the slopes.
The Basics
in Lincoln, New Hampshire, caters primarily to intermediate skiers and snowboarders. Michigan-based
acquired the site in September 2007 and has since carried out extensive expansion work, adding multiple trails and lifts. A two-hour drive from Boston, Loon Mountain is readily accessible by
. The medium-sized ski resort is also close to the Waterville Valley Resort to the south and the Cranmore Mountain Resort to the east.
The Mountain
Loon Mountain offers a range of terrains for skiers and snowboarders of different abilities, including beginners and experts. The mountain is
and boasts a 2,100-foot vertical drop, with a skiable area of 370 acres. Trails at Loon Mountain total a combined length of 28 miles. The mountain's longest run, Bear Claw, stretches 2.5 miles. Snow machines at the resort can produce enough powder to cover 99 percent of the trails, but the resort typically receives an annual snowfall of 200 inches. Loon Mountain's season runs from mid-November to mid-April with lifts open until 4 p.m. daily.
Trails And Lifts
The resort offers skiers a total of 61 trails, with 60 percent reserved for intermediate skiers. Beginners and experts split the remaining 40 percent of runs equally. Loon Mountain Park is the resort's signature feature. The terrain park boasts a 32-foot-high wall ride, jumps, rails and a
that measures 450 feet long with 18-foot-high walls. Visitors can make use of a total of 12 lifts including one gondola, three high-speed quads and two carpet lifts, among others. The resort's adventure center offers a range of activities including cross-country skiing, snowshoeing and zip line adventures.
In The News
Loon Mountain Resort has won a series of awards and titles including a
from OnTheSnow.com. The resort has also been named one of the top snowboarding destinations in North America by both
and
. The resort also hosts a
, which features various types of live music. These events typically occur throughout the ski season.
Cost
at Loon cost $78 for a full-day adult pass during the regular season. Teen tickets cost $68 per day, and juniors and seniors pay $58. Kids younger than 8 and seniors older than 80 can enjoy the park for free. Multiple-day passes are available up to the price of $354 for five days for adults. Group deals aren't offered at Loon, but guests can save money by visiting early in the season or by signing up for a frequent skier card. Visitors who don't have their own equipment can rent a ski or snowboard combo kit for $40 per full day for adults or $28 a day for children. Full-day skiing and snowboarding lessons start at $105 for children between 7 and 12, and $95 for adults. Hour-long
are also available.
Apres-Ski
Once finished on the slopes or in the snowboard park, visitors can head over to
Resort and Spa. The resort's Black Diamond Bar and Grille features a family-friendly restaurant that serves New England fare along with drinks from the wine list and the well-stocked bar. For visitors looking for something a little more lively, the
at the Octagon base offers beer, music and an enthusiastic atmosphere.
on the upper level of the Governor Adams Lodge is a great spot to enjoy a warm, hearty lunch and look out over the West Basin.
WATCH: Loon Mountain Resort
A 10-year-old snowboarder tackles the slopes at Loon Mountain with skills well beyond his years.