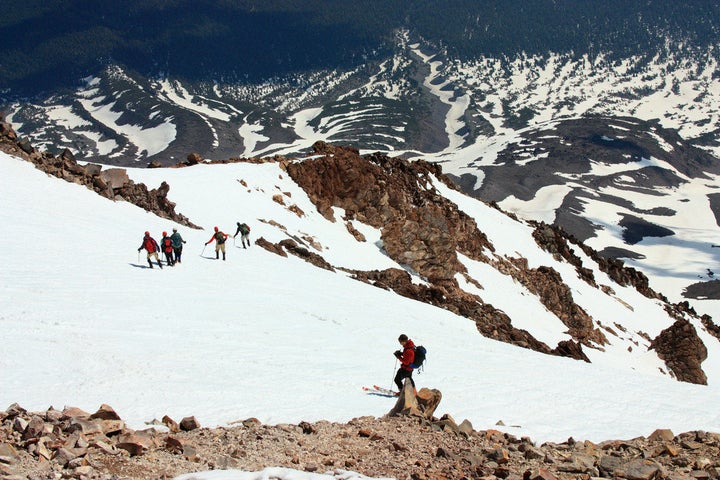 Mount Shasta Ski Park in California is a popular destination for skiers and snowboarders. As part of a series on ski resorts, Huffington Post Travel offers our guide to Mount Shasta Ski Park, featuring all the key information snow lovers need to know before they hit the slopes.
The Basics
is located in Northern California, 295 miles north of San Francisco and 100 miles south of Medford, Oregon. The nearest town is Redding, California, which is 65 miles south of the ski park. Mount Shasta Ski Park is accessible by car from Highway 89. Guests are drawn to the resort because it is newer than most. It was built in 1985, making it the newest ski park in California.
The Mountain
With 275 inches of annual snowfall and a season that runs from December through April, Mount Shasta Ski Park is a place for skiers and snowboarders alike. The park has 425 acres of
, including a vertical drop of 1,435 feet. The park has a combination of short runs and long runs, the longest of which is 1.75 miles long. The mountain's Revolution Terrain Park has rails and pipes for all levels of snowboarders.
Trails And Lifts
Mount Shasta Ski Park has 32
, 20 percent of which are designed for beginners, 55 percent for intermediate skiers and 25 percent being the most advanced. Guests have access to three triple chair lifts, one rope tow lift and one conveyor lift. Snowboarders love Mount Shasta's impressive 300-foot Super Halfpipe. The park offers
on 14 different trails, accessible by three lifts.
In The News
A number of
are held at Mount Shasta Ski Park, including the Big Air, Slopestyle and Rail Jam races. Mount Shasta also hosts the Coyote classic, Phil Holecek, Paul Gianera and Gene Landsman Alpine race competitions at the park. Mount Shasta Ski Park and famous Alpine skier Lindsay Vonn support the
program. It works to encourage all children to wear a helmet while on the slopes.
Cost
An all-day
on Fridays, weekends and holidays costs $44 for adults, $25 for children between the ages of 8 and 12 and for those over age 65. An all-day ticket for children aged 7 and under and adults over age 70 is priced at $9. Weekday lift tickets run between $3 for children and seniors to $29 for adults. A
to Mount Shasta Ski Park costs $499 for adults, $299 for teens ages 13 to 17, $169 for children ages 8 to 12 and $79 for children ages 7 and under. Full-day ski rental packages run between $17 and $23, and full-day snowboard rental packages run between $22 and $30. Two-lesson ski classes start at $70.
Apres-Ski
Many
are located at Mount Shasta Ski Park, including the Coyote Grill serving sandwiches, salads and snacks, and the Black Diamond Grill, offering barbecue. The Sliders Bar at Mount Shasta offers drinks served to guests who enjoy stunning views of the mountain. Guests might enjoy the
for locally made ale. Within driving distance, guests at Mount Shasta can find
, such as the Boardmart Snow Surf and Skate Shop and The Mountain Shop.
WATCH: Mount Shasta Ski Park
See the main attractions at Mount Shasta's Revolution Terrain Park.