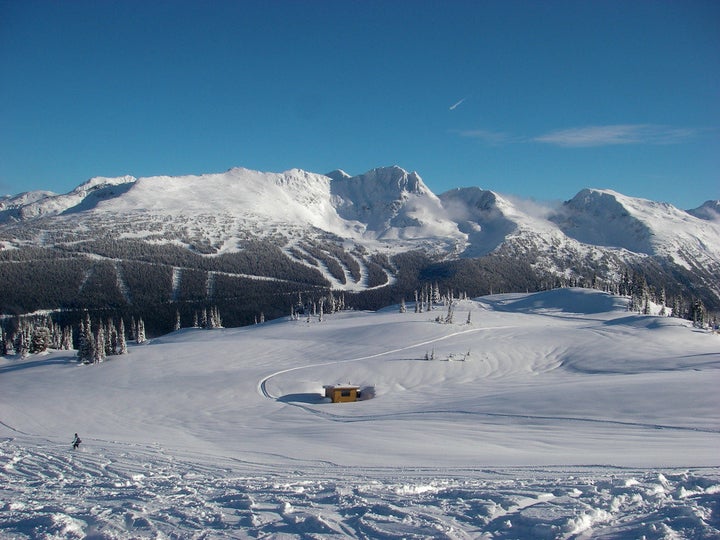 is located about two hours north of Vancouver by car. Many resort-goers fly into the Vancouver International Airport and rent a vehicle,
are also available for door-to-door service. Originally two separate resorts, Whistler and Blackcomb merged in 1997, creating the largest ski resort in North America; it's often billed as
of its competitors. However, Whistler Blackcomb is best known as the home of many memorable events during the 2010 Winter Olympics.
Open late November through late April, Whistler Blackcomb has one of the longest ski and snowboard seasons around. Whistler Mountain and Blackcomb Mountain have a combined total of more than 8,100 acres, with an average annual snowfall of more than 400 inches. The resort often
intentionally to help control natural avalanches and keep skiers safe.
offers high verticals and long runs in variable conditions. Whistler Mountain is slightly shorter with an elevation of about 7,100 feet and a vertical of just over 5,000 feet. Blackcomb Mountain towers slightly over Whistler at almost 7,500 feet with a vertical drop of about 5,300 feet.
A peak-to-peak gondola connects the two mountains, which offer more than
each. Whistler Mountain has more lifts at 19, with two high-speed gondolas, seven high-speed quads, two triple chairs and eight surface lifts. Skiers and snowboarders navigate Blackcomb Mountain through 17 lifts including one high-speed gondola, six high-speed quads, three triple chairs and seven surface lifts. The mountains have comparable terrains with about 15 to 20 percent beginner level, 55 percent intermediate trails, and 25 to 30 percent advanced runs. Between the two mountains, resort-goers can choose to spend their time at
, one super pipe, and one snow-cross track, not to mention
, a
,
and other
.
The
are a huge part of Whistler Blackcomb's history, and visitors can peruse an Olympics Legacy Display on-site. As the official alpine skiing venue, Olympic athletes and aspiring Olympians alike are drawn to the slopes of Whistler Blackcomb. Ski camps and an expert-level steep run were named after popular Canadian ski personality Dave Murray, who was once the director of skiing at the resort.
along with the
are held at Whistler Blackcomb every year.
Adult lift tickets run about $96 per person per day while kids' tickets are $48 per person per day, but ordering multi-day passes
or by buying tickets in
can lower the price per ticket. Other discounts include various
plus a program in which
receive free lodging, lift tickets and rentals during March. Rentals include quality brands like Burton snowboards and Rossignol skis, which range from
. Helmets, ski clothing and accessories are also available for rent.
range from $125 to $490 for half-day and three-day lessons.
Whistler Blackcomb offers a lively mix of award-winning restaurants, lounges, dance clubs and live music spaces. Favorite celebrity stops include the
and the
, which was often mentioned during the 2010 Winter Olympics TV coverage.
can choose winter activities such as eco-tours or snowmobiling while resort-goers looking for romance or relaxation can choose between a scenic
sleigh ride, a gourmet
, or indulge in the baths at Whistler's
.