Today is the birthday of American photographer and modern art gallerist, Alfred Stieglitz. The avant-garde art promoter and husband of Georgia O'Keeffe would turn 148 years old if he were miraculously still alive today.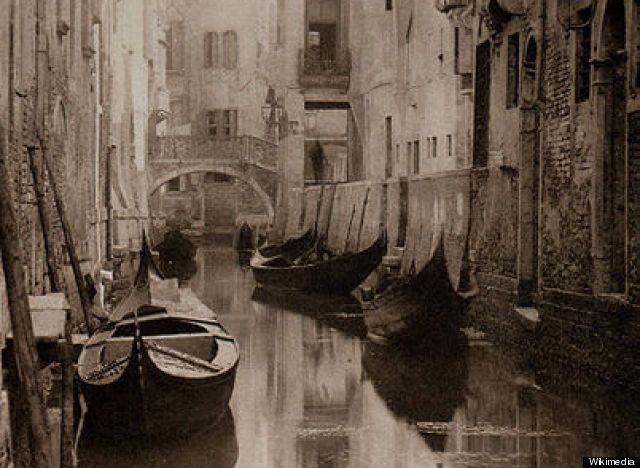 Alfred Stieglitz, "Venetian Canal" (also called "A Bit of Venice"), 1897
Stieglitz was born in Hoboken, New Jersey in 1864, but spent much of his early adulthood in Europe. By the turn of the 20th century, Stieglitz had begun to establish himself as a photographer, known for his black-and-white images of urban scenes. Though he rarely sold his work, he lived off the allowances afforded to him by his family long enough to set up a small photography business in New York, called the Photochrome Engraving Company. During this period, Stieglitz was also frequently contributing to The American Amateur Photographer magazine, as well as the later Camera Work publication, eventually abandoning his business in favor of opening his own gallery – "Little Galleries of the Photo-Secession." He arranged countless exhibitions of his and his friends' works, constantly seeking to validate the medium of photography by showing photographs alongside paintings, sculptures, drawings and prints.
It was his interest in other modern media that led him to meet his second wife, the renowned American painter, Georgia O'Keeffe. Stieglitz exhibited her work at his gallery in 1916, launching one of the most famous artistic partnerships in American art history. Throughout his later years, Stieglitz continued to practice photography, write for journals and foster the careers of other artists at his gallery, achieving his first major museum exhibition at the Cleveland Museum of Art in 1937. He died in 1946, leaving behind an oeuvre of more than 2,500 mounted photographs.
We'd like to wish Mr. Stieglitz a very happy 148th birthday. Scroll through a slideshow of some of his most recognized pieces below and let us know how you are celebrating the master artist's big day in the comments section.
PHOTO GALLERY
Alfred Stieglitz
BEFORE YOU GO