When you think of the Trumps, you think of gold, diamonds, giant penthouse apartments, the occasional foray into politics... what you don't think of is jeans and tee-shirts.
But Melania Trump, who gave Refinery29 a tour of her well-appointed home, insists that that's her outfit of choice. When asked what her single most-worn clothing item is, she says,
"Jeans -- I have that particular pair that I always wear. And, of course, I love shoes. I always have a favorite pair of shoes but it's always changing. I like to change it up with the outfit. I like to match the shoes and coat so you still look chic and elegant even if you wear jeans."
When chasing after her son, Barron, Melania says she also dresses down. "Sometimes I wear flats because I'm running around. I love to wear something comfortable like a T-shirt, since he's five years old. You need to be comfortable..." she conceded.
Well we believe that -- with all her jewels and Louboutins, Melania can't help but look elegant at all times. She's got a look that reminds us a bit of Sofia Vergara and a home like Versailles. Refinery29 took some shots of the luxe abode, which features a gold and diamond door, a fountain in the living room and jaw-dropping views of midtown Manhattan.
And while she surprised us with her denim confession, we were less surprised about some of her other style preferences. When asked if she ever shops at small, local boutiques, Melania replied, "Not really... there are boutiques like D&G, but that's not small."
She also buys her jewelry at QVC, but mainly because she designs it. In 2010, Melania launched her own afforable line on QVC called the Melania Timepieces & Jewelry collection, with each piece costing under $200.
And according to Refinery29, she actually wears them. "To keep your look elegant and chic," she intones, "you have to mix pieces that are not so flashy with pieces that are for special occasions."
She would know.
See a few photos below -- and head to Refinery29 for more pics and more bon mots from the billionaire wife.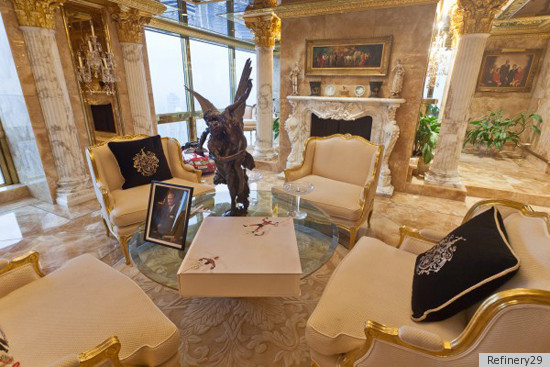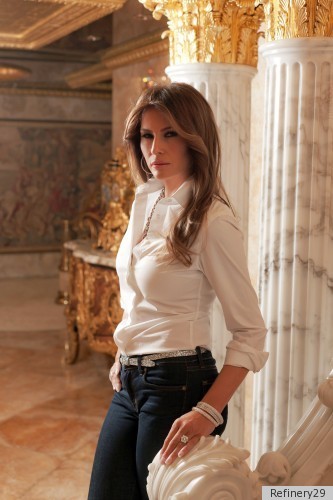 BEFORE YOU GO