Rick Santorum has repeatedly described himself as a "tortoise" in the race for the Republican presidential nomination.
After struggling to break out of the primary pack, the former senator from Pennsylvania saw a surge in the polls in Iowa ahead of Tuesday night's caucus. Santorum is running competitively against former Massachusetts Gov. Mitt Romney and U.S. Rep. Ron Paul going into the contest.
HuffPost's Ryan Grim reports:
Santorum, a social conservative whose high-profile activism against gay rights has earned him an ignominious online honor, has consolidated support from evangelical voters, besting Texas Gov. Perry and Minnesota Rep. Bachmann, both of whom have damned themselves with inept campaigns. Perry spent the day targeting Santorum with online ads, seeing the former senator as his obstacle to the top tier.

Santorum's closing argument was directed at Romney, urging voters not to settle for a candidate who is merely "electable." Santorum said that even if Romney won, it would be a "Pyrrhic victory" because he wouldn't change the direction of the country.
The Money Factor
HuffPost's Paul Blumenthal reports:
Rick Santorum has visited every county in Iowa, but couldn't afford ads until the tail end of the campaign. Santorum, who is riding a late surge in Iowa, has been aided by a pair of super PACs spending more than $600,000 on television and radio ads and phone banks to contact voters. One of those PACs appears to be working in concert with Iowa evangelicals; it features Bob Vander Plaats, the state's most prominent evangelical who recently endorsed Santorum, in both its TV and radio spots.

That connection could also lift the former Pennsylvania senator in an area he has been unable to properly finance -- his get-out-the-vote efforts. Evangelicals in Iowa have excellent voter mobilization operations that could help Santorum compete with the two well-financed mobilization operations ready to boost Romney and Paul on Jan. 3.
The Polls
HuffPost's Mark Blumenthal reports:
The latest poll of Iowa's likely Republican caucus-goers provides more evidence of a race headed toward a photo finish, with Ron Paul, Mitt Romney and a surging Rick Santorum running within two percentage points of each other.

The automated poll conducted by the Democratic Party-affiliated firm Public Policy Polling (PPP) shows Ron Paul at 20 percent, Mitt Romney at 19 percent and Rick Santorum at 18 percent on a survey for which PPP reports a margin of error for each candidate of +/- 2.7 percent. Running farther back are Newt Gingrich at 14 percent, Rick Perry at 10 percent, Michele Bachmann at 8 percent, Jon Huntsman at 4 percent and Buddy Roemer at 2 percent. PPP interviewed 1,340 likely Republican caucus goers on December 31 and January 1.
...
PPP's results and trends are mostly consistent with those on a half-dozen other polls released in the last week. HuffPost Pollster's chart, based on all public polls in Iowa, currently shows Mitt Romney leading with 22.5 percent, Ron Paul in second but fading slightly to 19.1 percent, Rick Santorum rising fast to 17.1 percent, and Newt Gingrich still falling and now at 12.9 percent.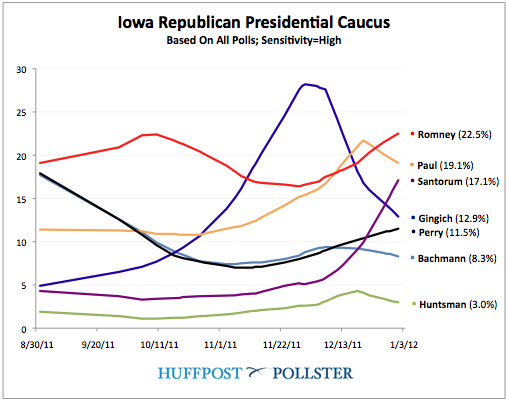 BEFORE YOU GO