UPDATE: In Icons has voluntary decided to stop selling the action figure out of respect for the Jobs family, MarketWatch has reported. The company plans to return all money received from pre-orders.
It's probably only a matter of time before a cease-and-desist letter is issued to stop the sale of the newest Steve Jobs action figure. Until then, fans of the late Apple chief can enjoy these promotional images of the eerily realistic figurine whilst they await its official release. According to Mashable, Chinese toy company In Icons plans to begin selling the dolls in February for $99.
For the 12-inch Jobs action figure, In Icons again teamed up with Hong Kong-based toy manufacturer Dragon In Dreams, with whom they co-created a popular Barack Obama action figure back in 2008.
Like its predecessor, this new figure bears a creepily close resemblance to its source, right down to Jobs' trademark turtleneck and glasses.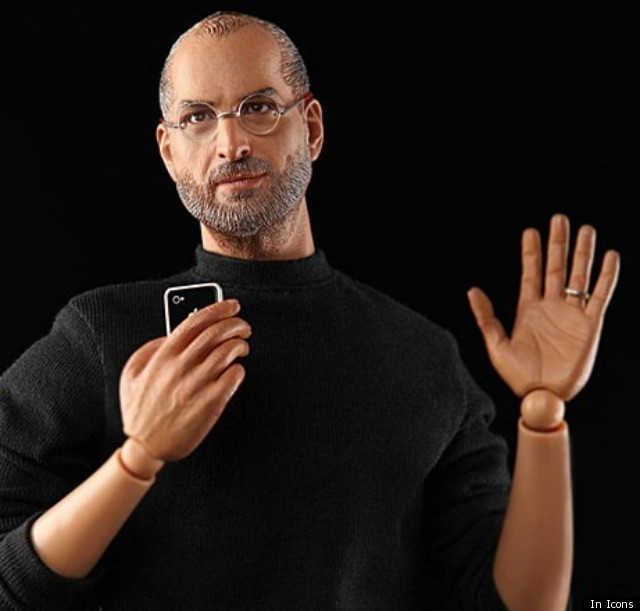 According to In Icon's promotional page for the toy, features of the doll include:
One realistic head sculpt & Two pairs of glasses
One highly articulated body & Three pairs of hands
One black turtleneck & One pair of blue jeans
One black leather belt & One chair (wood + metal)
One pair of black socks & sneaker
Two apples (One with a bite.)
One piece of "ONE MORE THING" hard backdrop
Sounds like a toy made in fanboy heaven, but only if fans can get their hands on the item before the Jobs family or Apple orders production halted. A previous bobblehead-type Jobs doll was taken off the market after Apple slapped Chinese toy company M.I.C. Gadget with a cease-and-desist order based on claims of copyright infringement, according to PC Magazine.
In the likely event the figurine is retired before it can hit shelves, Jobs fans can still enjoy the variety of Jobs tributes already out there:
PHOTO GALLERY
Steve Jobs Tributes (CLONED)
BEFORE YOU GO