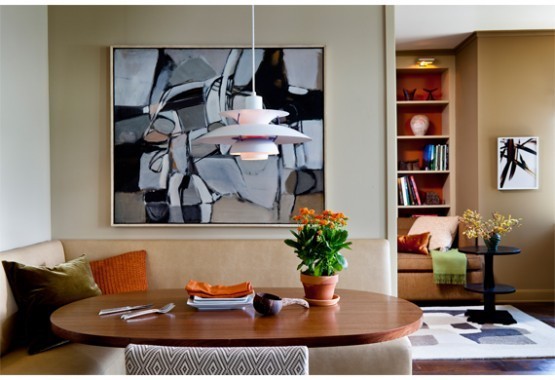 Interior by Glenn Gissler Design, courtesy of Dering Hall
Everyone seems to be "going green" these days, from designers doling out home products made from natural and sustainable materials to homes decked out in solar panels. And the general misconception is that being green means skimping on style, but that's not necessarily the case. Any space can be both eco-friendly and chic by following a few useful tips.
Dering Hall, an online bazaar for home decor, tapped design experts for some essential tips on how to make your home stylish and comfortable while keeping Mother Nature's welfare in mind. Here's what they have to say:

Think long term. While affordable, bargain furniture made out of synthetic material like particleboard may be more cost effective, it can often have poor construction that causes it to break easily. Broken furniture, as we've all seen, end up on the streets and even landfills, which have damaging effects on the environment. Instead, opt for durable pieces made from longer-lasting materials such as solid hardwood and stainless steel.
Go with local artisans. Buying from local designers and artisans in your surrounding areas is not only a great way to help stimulate the neighborhood economy, it's also good for the environment. There's no transportation delivery so you save on gas emissions and non-recyclable packing material.
Embrace vintage pieces. Reclaimed wood, salvaged materials and distressed mirrors can help add texture and sophistication to any dwelling. Look for old materials that can be revamped or renovated into something unique -- you'll be surprised what a fresh coat of eco-friendly paint can do.
For more detailed tips on how to make your space stylishly eco-friendly, head over to Dering Hall. And, check out this eco-friendly transformation of a 70s style kitchen.