By Ben Fractenberg, Jill Colvin and Tom Liddy

MANHATTAN — Distraught mother Madonna Badger, whose young daughters and parents were killed in a horrific Christmas Day fire in Stamford, Conn., grieved at an Upper East Side funeral home Wednesday along with other friends and family, according to sources and reports.
Badger, who survived the fire that took the lives of her three young children, Lily, 10 and 7-year-old twins Grace and Sarah, as well as her parents Lormer and Pauline Johnson, was seen walking out of the Frank E. Campbell Funeral Home on Madison Avenue Wednesday evening, where a private wake was being held.
The girls' grieving father, Matthew, greeted mourners as they arrived at the funeral home and consoled one another about the tragedy that gripped the nation during the holidays.
"The closure you are looking for when you see those little caskets, it just doesn't come," said Stamford Fire Chief Antonio Conte after attending the service along with the mayor of Stamford, Michael Pavia.
Firefighters from his department tried desperately to get to the trapped victims but were pushed back by the smoke and flames.
Lormer Johnson, who worked as a Santa at Saks Fifth Avenue, was reportedly found near one of his granddaughters and was believed to be trying to save her.
"The family is here today to privately remember, mourn and honor their beloved Lily, Sarah and Grace as well as Lormer and Pauline Johnson," said family friend Kate Askew in a statement. "It has been an incredibly, incredibly difficult time."
The fire was reportedly sparked by ashes from the fireplace that were left near the trash in the entrance of the house.
According to the Associated Press, the embers were taken out of the fireplace so that the children wouldn't worry about Santa Claus getting burned when he came down the chimney.
Badger, who founded the firm Badger & Winters and was an art director for Calvin Klein, had moved from Manhattan to Connecticut along with her family. She spent Christmas eve with her children, her parents, and her friend Michael Borcina, whose construction company was in the process of renovating the house.
Investigators are checking whether Borcina's construction company had the proper permits, as well as whether the house had working smoke alarms and checking the status of the construction work.
A funeral for the girls is set to take place at St. Thomas Church, on 53rd Street and Fifth Avenue, at 10:30 a.m.
There will be a committal service for the family members who died at Woodlawn Cemetery afterwards.
Details for making donations in the memory of the children can be found on the Badger & Winters web site.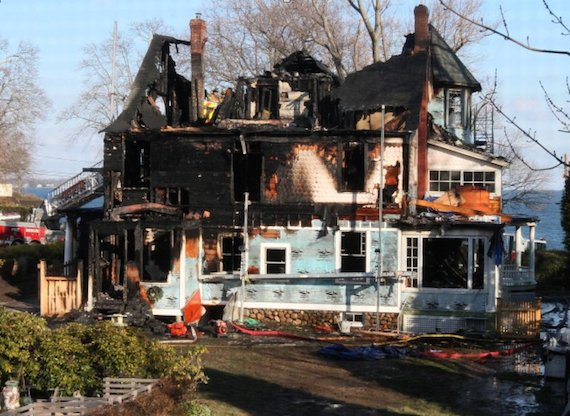 BEFORE YOU GO