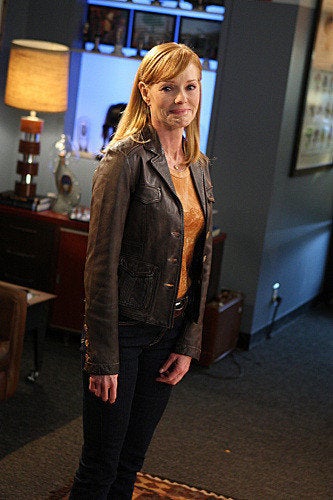 After 12 years, Marg Helgenberger is leaving "CSI."
Helgenberger, who has been with the show since the beginning, will say goodbye to the CBS drama and its blood, gunpowder residue and DNA evidence on Wed., Jan. 25 at 9 p.m. EST. However, she's not leaving quietly. "The X Files" actress Annabeth Gish, "The Chicago Code" star Matt Lauria and "Lost's" Man in Black, Titus Welliver, all guest star in Helgenberger's final episode.
CBS's official description:
"Willows In The Wind" -- The CSI team says goodbye to Catherine Willows as she makes a life-changing decision, on CSI: CRIME SCENE INVESTIGATION, Wednesday, Jan. 25 (10:00 - 11:00 p.m., EST/PST) on the CBS Television Network. Guest stars include Matt Lauria as FBI Agent Pratt, Titus Welliver as CEO Mark Gabriel and Annabeth Gish, as his wife, Laura Gabriel.
WATCH: Marg Helgenberger's last day on set.
BEFORE YOU GO