Time magazine had some fun with its latest Mitt Romney cover.
The magazine's new issue looks awfully familiar. It features a very close-up shot of half of Romney's face with the headline "So You Like Me Now?" If readers are experiencing a sense of deja vu, that's because the cover is a companion to one the magazine did in December. That issue showed the same picture of Romney, but from a different angle. The headline read "Why Don't They Like Me?"
The change reflects the new landscape within the GOP after Romney's eight-vote win in the Iowa caucuses. In a note, Time managing editor Richard Stengel wrote about the choice:
This week, in the wake of Romney's razor-thin win in Iowa, we've updated and revised the question [of Romney's popularity with Republicans], using the other half of the same portrait of Romney. The first cover got a lot of attention, not least from Governor Romney himself, who began annotating the cover for those who asked him to sign it. Now the voters in New Hampshire and beyond can answer the question for themselves.
Below, see the two covers side by side, along with background on Romney.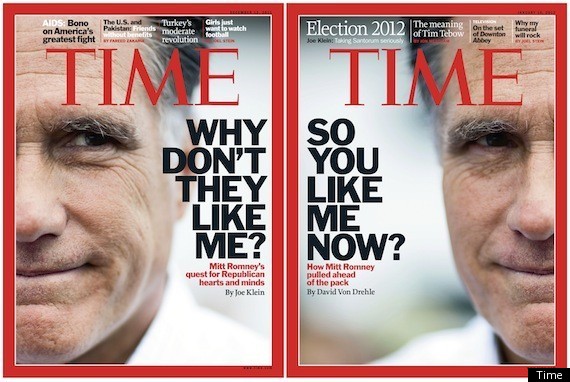 BACKGROUND ON MITT ROMNEY:
PHOTO GALLERY
Mitt Romney 2012
BEFORE YOU GO