The father of missing University of Missouri student Jesse "Opie" Ross has chronicled more than five years of searching for answers in a newly released book, "Where's Opie?: Vanished in Chicago."
Ross' father, Donald Ross, described the book as part "personal therapy," and told The Huffington Post he hopes the book will help others who are in a similar situation.
"[This is] not a work of fiction, but the true story of one family's awakening into the world of the missing," he said. "Personally for me, this is a chance to bring some order to chaos and, if you will, a little personal therapy. Also, to share some insight that may be helpful to others in our position."
Jesse Warren Ross was a 19-year-old sophomore when he vanished on Nov. 21, 2006, while attending a mock United Nations conference in Chicago.
According to police, Ross was last seen at about 2:30 a.m., leaving the Sheraton Hotel and Towers, where a conference dance was held.
Surveillance footage from the hotel does not indicate Ross was intoxicated when he left. It is believed he was headed to his hotel, the Four Points Sheraton, located about 10 minutes away.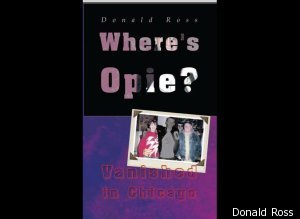 What happened to Ross after he left the Sheraton Hotel remains a mystery. He never made it to his hotel and he has not been seen since. Authorities and private search groups have conducted extensive searches for Ross on land and in the Chicago River, which runs next to the hotel where he stayed, but none of the searches turned up any clues.
Investigators found no indication Ross took off of his own accord, and there has been no activity on his bank account since the date of his disappearance.
According to Ross, the pain of not knowing what happened to Jesse remains as strong for his family today as it felt when his son first went missing.
"This [book] is the story of Jesse, of his mother, brother, myself and our quest for some resolution to his case," he said. "[It is] part history book, part journal -- a product of my frustration with police and my desire to tell Jesse's story to as many people as possible."
The 236-page book is available on Amazon.com.
Jesse Ross is described as a white male, 5-foot-10-inches tall, 140 pounds, with red hair and blue eyes. He was last seen wearing a green warm-up jacket, white t-shirt, blue jeans and black gym shoes. Anyone with information is asked to contact the Chicago Police Department at 312-744-8266. For more information on the case or to make a donation to the Ross family's search efforts, please visit findjesseross.com.
Missing Person Cases:
PHOTO GALLERY
Missing People
WATCH:
BEFORE YOU GO