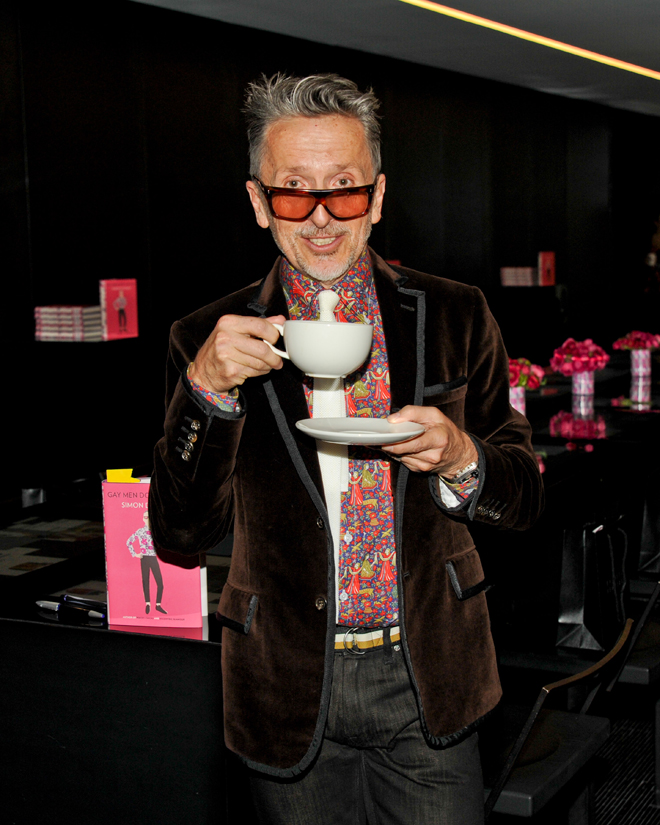 Billy Farrell Agency
"I can't believe people always thought there were four food groups, when it's so obvious that there are two: gay food and straight food," Barneys Creative Ambassador at Large (and proud member of the gay community) Simon Doonan explained at a launch event for his new book, "Gay Men Don't Get Fat." In the tome, he distinguishes between the two, citing sushi as a prime example of the former ("You're taking big slabs of fish and making it into little bonbons, and that seems really gay to me"), and beef burritos as the latter. "I'm not advocating gay food; I'm advocating a balance of the two," he clarifies. "The simplest example is, if you order the Angus steak or meatloaf, then you need a little nelly salad to go with it." And in case you were wondering, the "gayest" food is pastel-hued macarons. "I think if you lived on macarons, you would just explode into a nuclear cloud of gayness," he notes.
Doonan names chocolate cake as his favorite "gay" culinary treat, but suggests the following trick to offset the indulgence: "Order one between 11 of you and then fight over it. You use up the most calories when you're fighting over food." As for battling the post-holiday bulge, he advises, "Stop watching TV, get out and jiggle about. When 'Toddlers and Tiaras' comes on, get up and start imitating the kids."
We asked Doonan to share his top 10 tips for staying a Skinny Minnie.
1. Don't eat guacamole for breakfast ... or any other meal. Guac is a one-way ticket to chubbie-ville.
2. Do skip. Skipping burns up millions more calories than walking. Not recommended for rough neighborhoods, especially if you are a man.
3. Do not go near the office vending machine...EVER!!
4. Do watch "Hoarders." It is so disgusting that it will extinguish any hunger pangs you may have.
5. Do wear vertical stripes. It's an old trick, but it works.
6. Do carry a very heavy purse. Put rocks in your Goyard if necessary. Every outing will become an
upper-body workout.
7. Don't become a Town Car addict. Walk down the street at top speed, as if you were being chased by Somalian pirates.
9. Do suck your cheeks in every time anybody snaps your photo.
10. Don't believe your Aunt Luciana when she tells you her risotto is fat-free. She is lying.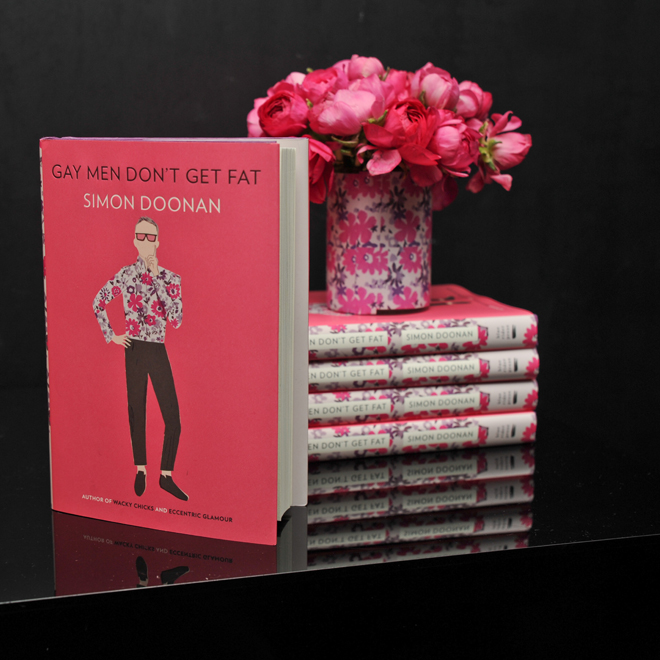 Billy Farrell Agency
FASHION RELATED LINKS YOU LOVE:

10 Pieces You Should Add To Your Winter Wardrobe - FabSugar

Why Not Wear Pearls at the Beach? - The Cut

Video: How to Stack Oversized Bangles - Lucky

The Year of the...Sneaker? - Racked

Stylish Workout Gear and Gadgets - iVillage