You may not like them, but don't mess with the Kardashians.
We've learned the Kardashian family's general counsel, Christopher T. Wilson has allegedly threatened legal action against the founder of BoycottKim.com, according to the New York Daily News.
Following the news that Kim had filed for divorce from Kris Humphries a slew of anti-Kardashian sites and petitions hit the web.
On Nov. 2, a woman named Cyndy Snider created an online petition called "No More Kardashian" that asked the E! Network to axe their ties to the reality TV family.
A website called BoycottTheKardashians.com was also created on Nov. 2 and on Nov. 5 BoycottKim.com hit the web. That website had amassed more that 500,000 signatures and contained content that spotlighted some of the negative media the Kardashian family had recently attracted.
The website's California-based founder, who wished to remain anonymous when speaking to the NYDN, claims Wilson told him that another lawyer for the family, Martin Singer, intended to file a criminal harassment complaint against him.
"They try to scare you," he said. "[The Kardashians] do not want bad publicity."
The founder claims that Wilson expressed dismay over a section of the site which asked readers to contact Martin Singer to voice their anger over allegations that products the Kardashians endorsed were made in sweatshops using child labor.
The paper reports the founder's attorney David Henshaw has already engaged in a conference call with Wilson and Singer and the founder says the threats of legal action against him are "laughable," explaining the site didn't encourage anyone to harass Singer, but rather encouraged them to express their personal opinion.
BoycottKim.com appears to be down at this time, but a cached version reveals a cartoon caricatured of Kim and asks its visitors to "Boycott Kim and all that she stands for by going after those who hire her and give her incentive to continue to pollute our culture." The founder told the NYDN that he's aiming for the petition to receive one million signatures.
Despite the various boycott attempts, E! President Suzanne Kolb recently said the network takes every viewer comment seriously, but they never considered cutting their ties with the Kardashians.
Screenshots: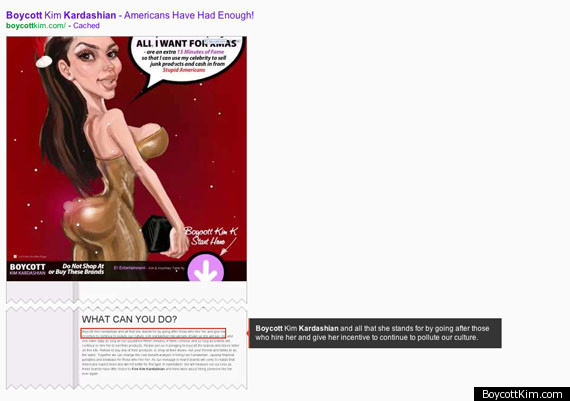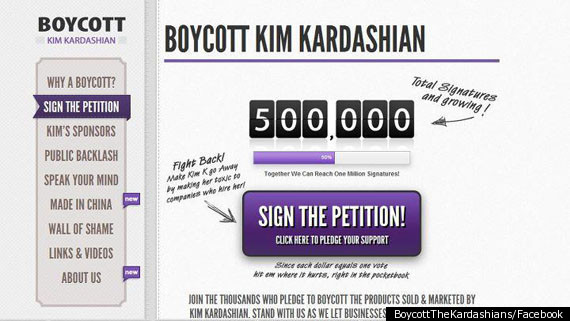 BEFORE YOU GO