Whenever Anderson Cooper shows up on Bravo's "Watch What Happens," the results are always incredible. Cooper's trip to the Andy Cohen show on Monday proved to be no different, as he dissed the Kardashians, talked about sexting, sat through a very racy sample of his mother's writing and even used a Shake Weight.
That's right: the Shake Weight, that exercise tool whose rather... bizarre movements have attracted considerable attention throughout the years. Cooper looked like he was being handed something disgusting when Cohen passed it over to him, but he shook the thing with good grace anyway.
Cooper also revealed that he wouldn't want to have any Kardashian on his new talk show, and gave this priceless look when Cohen started reading a steamy passage from his mother's novel: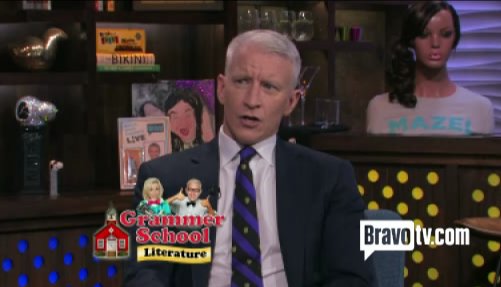 Watch Cooper diss the Kardashians and use the Shake Weight in the video above, and watch him reel at his mother's dirty mind in the video below.
WATCH: