Jessica really, really loves the Baltimore Ravens, and she's not the least bit shy about letting them know.
The young girl sent the Ravens a fan letter expressing her dedication to the team and sharing news of a recent run-in with a Pittsburgh Steelers fan that landed her in the counselor's office.
Now that's a hard-core fan.
(PHOTO BELOW)
Amid her praise for the team, though, Jessica had some hard-hitting advice for the team's quarterback, Joe Flacco.
"No more interceptions from the other team," Jessica says in the letter.
Since she'd really like to see the Ravens head to the Super Bowl, that advice might come in handy.
The Baltimore Ravens recently set up a letters program encouraging dedicated fans to drop off correspondence for the team at participating Giant grocery stores throughout Maryland. A random drawing will choose one lucky fan who'll win four tickets to the Ravens game on Jan. 15, arranged parking, pre-game accommodations and more, according to the team's official website.
A slew of other fans have also submitted letters to the team, and the Baltimore Sun has a slideshow featuring some of the most memorable submissions.
The Ravens currently have 12 wins and four losses as they head into the divisional playoff game against the Houston Texans on Sunday.
Super Bowl XLVI is scheduled for 6:30 p.m. ET on Sunday, Feb. 5.
LOOK: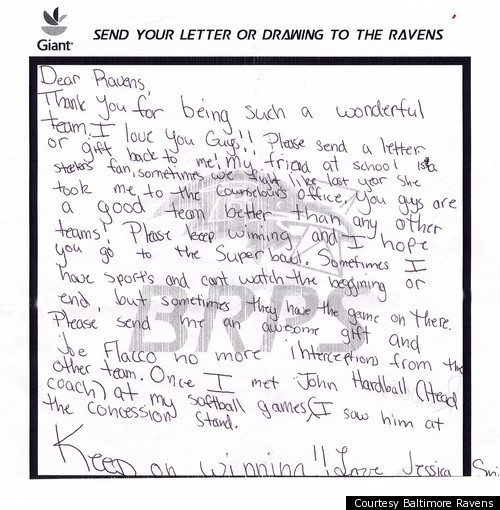 Via The Hairpin
BEFORE YOU GO