Well-known L.A.-based designer Peter Dunham, who also owns the antiques and home accessories shop Hollywood At Home, is probably one of our favorite decorators in the country. And, well, we're not the only ones who think that. He's the go-to designer for Hollywood A-listers and socialites alike and he's been on House Beautiful's top 100 designer list five times. But don't think that it's all gone to his head. Peter's designs encompass the perfect combination of sophistication and comfort, and when it all comes down to it "even a 7-Eleven can be made to look glamorous and sexy with the right lighting," he says.
So, what's his trick? For Peter, it's all about layering. The key to a great room is combining different textures and materials to create an interesting but also lived-in look -- a room with history. Instead of having just one ceiling fixture, combine sconces with lamps and candles in a room to achieve a soft balance in lighting; layer a decorative rug on top of a sisal on the floor; top a coffee table with books, a tray, flowers and a family heirloom, for a personal touch.
Want more tips? Scroll down for a preview of Dering Hall's interview with Peter.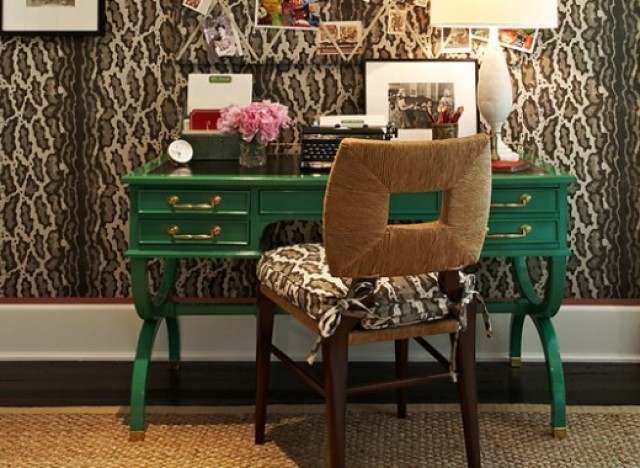 This How to Marry a Millionaire Side Chair is Peter's favorite piece in his Dering Hall storefront. Photo courtesy of Dering Hall
Dering Hall: You tend to play with scale. What are some ways to inject dramatic scale into a space?
Peter Dunham: In a high-ceilinged room, use an oversized chandelier. De-electrify it and just use it with candles so it becomes a piece of sculpture rather than a glaring light fixture, and it anchors the space. In a small room, choose a bold, big-pattern print and cover everything in it, the French way: walls, curtains, upholstery, et cetera. It gives the room vibrancy and glamor. Also, use large, but fewer, pieces in a small room -- like a sofa that may seem too big -- so it feels luxurious. In a large room, use smaller-scale pieces to create several areas and bring the space more to human scale.
DH: How would you mix pieces from Hollywood at Home with things that are quite different?
PD: I often pair the New York Athletic Club Armchairs or the How to Marry a Millionaire Side Chairs with a very sleek Saarinen dining table. They give each other complementary textures. The Portofino Coffee Table goes really well with a modern Italian sectional -- it gives a bit more personality and a natural, handmade element. Put the Tangier Wicker Chair with a big-scale English chintz sofa: The wicker totally pricks the prissiness of the upholstery.
For the complete interview, head over to Dering Hall.