Chicago's mild winter came to an abrupt end Thursday when the season's first significant snowstorm brought what could total as much as 8 inches of the fluffy, white stuff to the area.
A winter advisory for the area began at 9 a.m., after which the snow began throughout the area. According to the Chicago Tribune, the National Weather Service is saying between 2 to 4 inches were expected to fall before evening rush hour, with another 2 to 4 inches of snowfall possible overnight. Northwest Indiana will likely see even more accumulation.
Winds of 15 to 25 mph, gusting to 35 mph, were anticipated to cause blowing, drifting and decreased visibility on the roadways by the evening commute, CBS Chicago reports, so area motorists were forewarned to prepare for "absolutely treacherous" conditions when it comes to any sorts of evening travels, according to the Tribune.
The storm has presented significant obstacles to air travelers in the area as airlines canceled more than 500 flights Thursday, including some 400 flights at O'Hare International Airport and 100 at Midway International Airport, the Associated Press reported.
Temperatures are expected to plunge significantly during the storm that, as the Chicago Weather Center's meteorologist Richard Koeneman puts it, "will remind us that this is, after all, January in Chicago." Temperatures will likely dip into the 20s by Thursday evening, while the wind chill Friday morning could approach zero.
In preparation for the storm, the Illinois Department of Transportation loaded up its plows and city crews were also ready, ABC Chicago reports. The storm gave many Chicagoans their first chance to try out the city's new "Plow Tracker" which, as CBS Chicago reports, allows users of the app to see where the city's trucks are headed in real time.
Despite what are expected to be frigid temperatures, many Chicagoans remained upbeat that winter as most locals know it has finally arrived in the area. Mike Norman, 44, of Evanston, told the Associated Press he was looking forward to the challenge of running in the snow.
Business owners dependent on wintry conditions to make money, including plow drivers and hardware stores, were also pleased by the snowfall, as ABC Chicago reports.
A winter weather advisory remains in effect in the Chicago area through 9 a.m. Friday.
Light snow showers are also possible Saturday, during the afternoon and evening, NBC Chicago reports.
To date, the winter season in Chicago has been described as "abnormally warm." Prior to Thursday, the city has seen only 1.9 inches of snow, the fourth-least amount of snowfall recorded. The month of December was the 15th warmest on record in Chicago.
In October, meteorologists predicted that the city would have the nation's worst winter this season, but have since scaled down those predictions.
We will be following weather and travel developments as the storm continues. Stay tuned here. Have a cool photo or snow-related story to share? Email us at chicago@huffingtonpost.com!

01/12/2012 9:55 PM EST
@ TWCBreaking :

FAA.gov says all flights bound for Chicago O'Hare (ORD) "will not be allowed to depart until at or after 8:30p EST" #snowisback
01/12/2012 3:08 PM EST
Chet Sees You.
@ CHETHAZE :

All my girls in the fur hooded jackets and the leggings I see you
01/12/2012 2:54 PM EST
Rush Hour Nightmare Looking Likely
The National Weather Service has issued a winter warning storm warning, saying snow could accumulate an inch an hour just as the evening rush hour hits.

"Heavy snowfall rates of around 1 inch per hour may make it difficult for snow removal operations to keep up in some areas late this afternoon and early this evening," the weather service said in the warning.
01/12/2012 1:03 PM EST
THE PLOWS ARE EVERYWHERE!!
Seriously. THIS is pretty cool.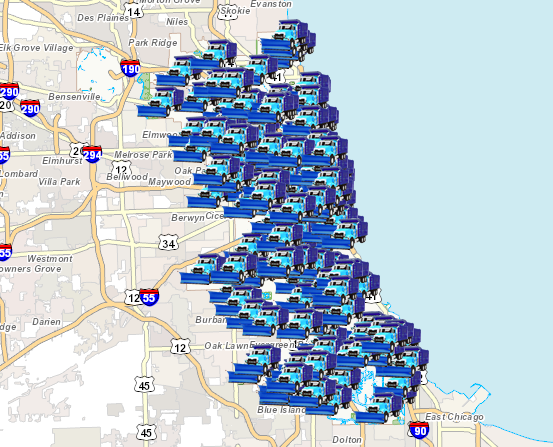 01/12/2012 12:53 PM EST
More Travel Woes
Aside from Southwest Airlines canceling all flights between 1 p.m. and 6 p.m. (for now) at Midway, the the Chicago Tribune has more bad news out of O'Hare:
At O'Hare, airlines have canceled more than 325 flights in and out of the airport. As of 11 a.m., airlines were reporting 20-minute delays for flights to and from the East Coast averaging.
01/12/2012 12:34 PM EST
@ nbcchicago :

RT @Matt_Rodewald: SW Airlines to cancel ALL flights between 1pm & 6pm to/from #Chicago Midway Airport #firstsnow
01/12/2012 12:20 PM EST
Behind The Scenes At Snow Command