The death of Kim Jong Il has left North Korea, a nation shrouded in mystery, in a time of radical uncertainty. And while the spotlight has been on North Korea in its transitional era, all that was revealed to the outside world is just how veiled North Korea truly is. Apexart's new exhibition, called 'A Postcard from Afar: North Korea from a Distance,' presents a constructed image of a nation unconcerned with morality.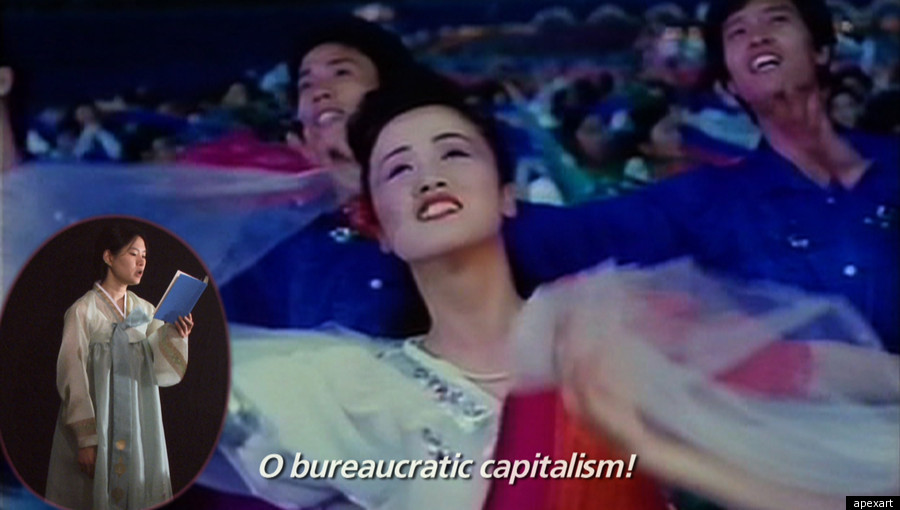 North Korea, over time, has almost become a sort of fantasy, as most information circulating around the country is either positive propaganda from within or negative propaganda from the outside. The cult of personality surrounding Kim Jong Il is perpetuated from both the inside and outside, from the nation embalming and displaying their dear leader's corpse to the Tumblr 'Kim Jong Il Looking at Things.' The factual and fictional is equally sensational.
Using declassified and military documents and this abundance of propaganda, artists attempt to construct an image of the faraway place. The show, 'a postcard from afar,' admits the distance and imagination inherent in its depictions. However, rather than shying away from the fictional construction of its images, the show posits that North Korea has been an imaginary state all along.
The show features work by Magnus Bartas, Peter Cave, Alain Declercq, Jim Finn, Tony Garifalakis, Soni Kum, Jung Lee, and Karl Tuikkanen. It is curated by Mark Feary. The exhibition will be on display through March 10, 2012 at apexart in New York.
PHOTO GALLERY
Dear leader