Mason jars are one of the most useful household items we can think of. You can use them as vases, drinking glasses, food containers, button holders, votives...the list goes on and on. So, in this Craft Of The Day, we turned our attention towards giving this incredibly useful item a chic makeover. With a little paint, you can create these beautiful silhouettes in any shape, size or color. And there are no special skills required, just scroll down for the simple how-to.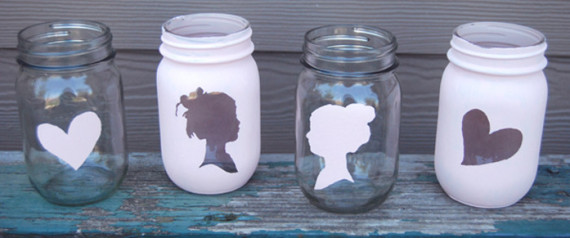 Photo by Lauren Donaldson of Lauren Elise Crafted
What You'll Need
Mason jar
Paint
Sponge or brush
Sticker paper (or paper and double-stick tape as a substitute)
X-acto knife
How To Make It
1. Figure out what image you want to paint -- either by free hand drawing or using a template.
2. Trace the shape onto sticker paper.
3. Use your X-acto knife to cut out the image.
4. Attach the image to the jar. (You can attach the cut-out shape or the negative of the shape, depending on what look you want.)
5. Apply your paint. (Pull away from the stencil when painting to keep the paint from leaking under the image.)
6. Let the jars dry and remove the sticker. (You can use your X-acto knife to clean the edges and scrape away excess paint.)

For the full tutorial and cute styling ideas, visit Lauren Elise Crafted.
And, be sure to check out our other great crafts in our Craft Of The Day slideshow below.
PHOTO GALLERY
Craft Of The Day
Have something to say? Check out HuffPost Home on Twitter, Facebook, Pinterest, Tumblr and Instagram.