Thousands of websites have joined the efforts to stand up against the Stop Online Piracy Act (SOPA) and the Protect IP Act (PIPA) by blacking out information or changing their avatars.
While sites like Wikipedia and Reddit have opted to entirely block access to their content, others like Google chose to black out their logos and direct users to information on the two bills currently before Congress.
Google is providing that information in the form of a timeline infographic showing users how opposition to the bills has grown over time.
SCROLL FOR GRAPHIC
According to the graphic, it all started with Internet pioneer Vint Cerf, who expressed his concerns about the bills through an open letter to Congress. Gradually, internet and technology companies including eBay, Twitter and AOL began to take a stand and argue the bills would harm innovation and jobs.
By Jan. 18, more than 3,000,000 users had signed a petition protesting the two bills, according to the graphic.
The graphic ends with a plea to users to sign the petition before Congress begins voting on Jan. 24.
The bills were proposed in an effort to stop online copyright infringement and content piracy, but many worry they would give the government too much power in deciding what sites are seized or shut down without first conducting any sort of trial or hearing.
"There's a bill that would require [Internet service providers] to remove URLs from the Web, which is also known as censorship last time I checked," Google Executive Chairman Eric Schmidt said in November, TechCrunch reports.
Senator Marco Rubio (R.-Fla.) withdrew his support for PIPA on Jan. 18, saying he believes there is a better way to fight piracy "while simultaneously promoting an open, dynamic Internet environment that is ripe for innovation and promotes new technologies," according to a statement on his Facebook page.
LOOK: (Click the graphic for a larger version)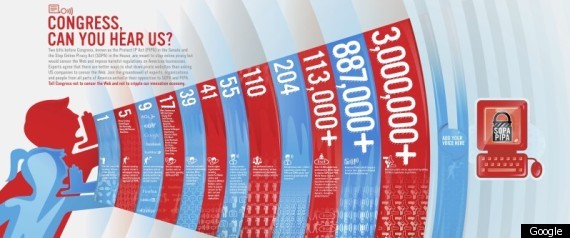 GET INVOLVED:
11 WEBSITES TAKING A STANCE AGAINST SOPA:
PHOTO GALLERY
11 Huge Sites Protesting SOPA
BEFORE YOU GO