While sites like Wikipedia and Reddit have opted to entirely block access to their content, others like Google chose to black out their logos and direct users to information on the two bills currently before Congress.
According to the graphic, it all started with Internet pioneer Vint Cerf, who expressed his concerns about the bills through an open letter to Congress. Gradually, internet and technology companies including eBay, Twitter and AOL began to take a stand and argue the bills would harm innovation and jobs.
By Jan. 18, more than 3,000,000 users had signed a petition protesting the two bills, according to the graphic.
LOOK: (Click the graphic for a larger version)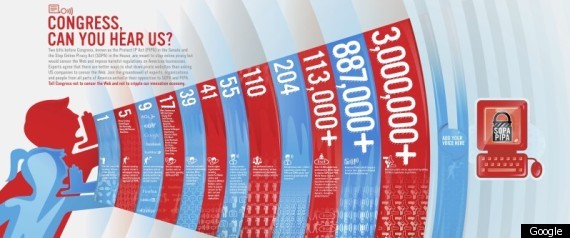 11 WEBSITES TAKING A STANCE AGAINST SOPA:
PHOTO GALLERY
11 Huge Sites Protesting SOPA
BEFORE YOU GO