As Republican presidential candidate Rick Santorum finished his speech on Saturday following his third-place finish in the South Carolina primary, he was glitter-bombed by members of the Occupy Charleston movement, Summerville Patch reports.
It isn't clear whether Santorum himself was hit with glitter, but BuzzFeed reports that at least one member of the Duggar family, the reality-TV stars who've endorsed the socially conservative candidate, were hit with glitter.
Summerville Patch's Lindsay Street reports:
As Santorum closed his speech focusing on building strong family values, a gay rights activist said: "Except when you're gay" and threw a handful of glitter in the air.

Members of the Occupy Charleston group joined in with chants of "Rick, Rick, Rick, bigot, bigot, bigot" and singing "Santorum, Santorum, you're a bigot."
Click over to Summerville Patch for more.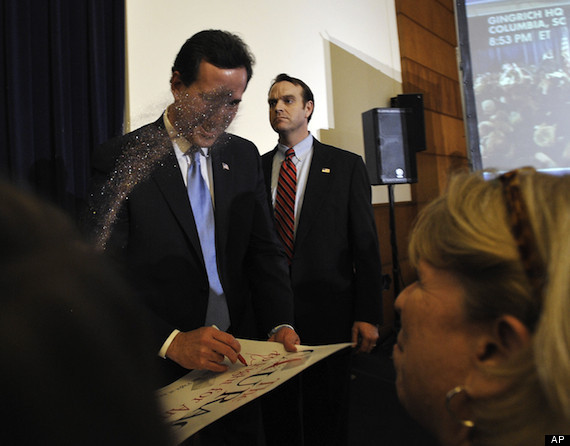 Video from of the incident, available above from WCSC-5, shows that the candidate appeared to take the glittering in stride. The Los Angeles Times reports that the protesters were escorted out of the auditorium.
Lindsey Boerma, a reporter for CBS News and The National Journal, tweeted a picture of the glitter mid-air from another perspective:
Still image of the glitter bomb hurling toward Santorum as he made his way through the rope line tnght. #lovetechnology twitter.com/Lindsey_CBSNJ/…

— Lindsey Boerma (@Lindsey_CBSNJ) January 22, 2012
This isn't the first time Santorum has been the target of glitter. At an event in Iowa in December, a man who yelled "Stop the hate, taste the rainbow" threw glitter at the former Pennsylvania senator.
And Real Clear Politics reported on Thursday, just two days before the South Carolina primary, that people protesting Santorum's stance on social issues at a rally in Mt. Pleasant, S.C. threw glitter at the candidate.