Internet activists took aim at Sen. Chuck Grassley (R-Iowa) on Monday. The senator returned to Washington off a flight from Des Moines to find his Twitter account hacked by someone claiming to be an Anonymous follower.
The Twitter account began showing rogue messages around 1:30 p.m. "Dear Iowans, vote against ACTA, SOPA, and PIPA, because this man, Chuck Grassley, wants YOUR internet censored and all of that BS...," the first hacked tweet read. That was followed by, "And yes, I am an Anonymous follower."
Grassley is an original cosponsor of the Senate's Protect IP Act, or PIPA, a sister bill to the House's Stop Online Piracy Act, SOPA, both of which the hacktivist group Anonymous opposes. The extreme limitations proposed in the anti-piracy bills caused a feverish internet backlash, with giant sites like Wikipedia and Reddit going dark last week in protest.
In a win for the Web world, leaders in Congress said they would postpone consideration of the controversial bills.
"Chuck is a supporter of SOPA, PIPA, and ACTA, meaning he wants no privacy for private accounts," the hacker tweeted, before moving away from the political topic to simply toy with the senator and his staff. "I really wanted Herman Cain to get president this year," one tweet read.
"Yes, it's surprising that I'm actually writing in full sentences with spaces and correct grammar/spelling," read another.
At 4:30 p.m. Senator Grassley tweeted that his account was no longer compromised.
The unauthorized tweets have since been deleted, but here are some screenshots we grabbed of the hacked account: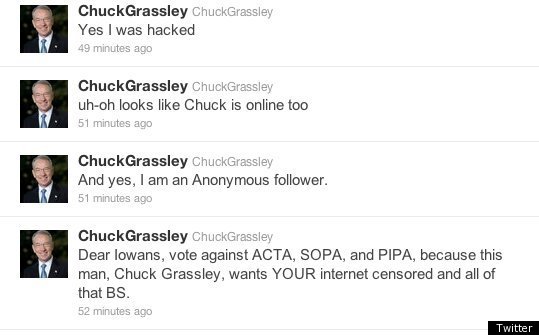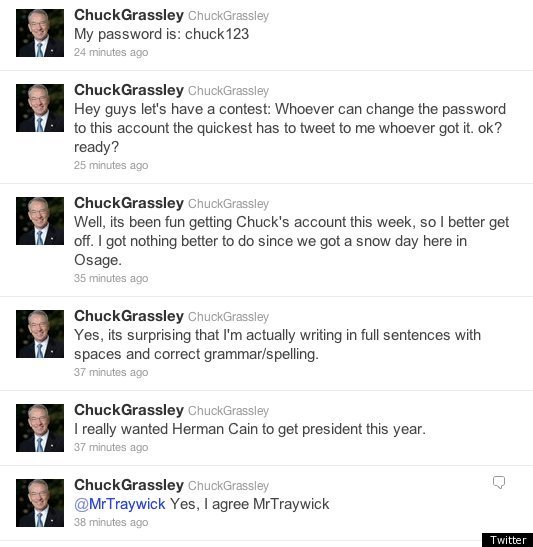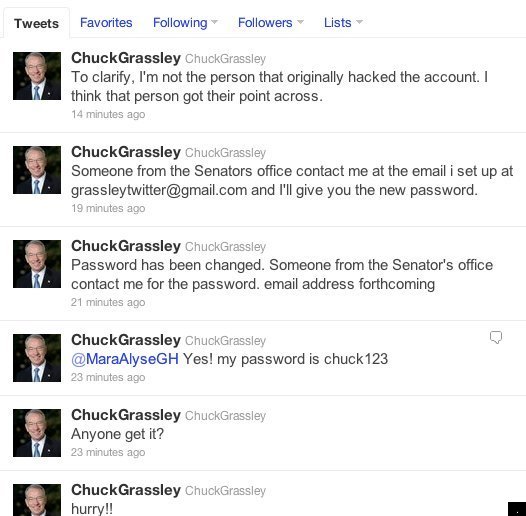 BEFORE YOU GO
See what lawmakers were saying on Twitter about the controversial SOPA and PIPA bills:
PHOTO GALLERY
Politicians React To SOPA and PIPA