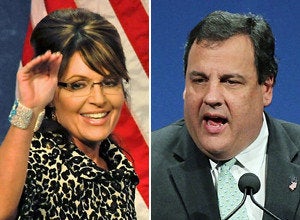 Fox News commentator Sarah Palin chided New Jersey Gov. Chris Christie Monday, following a weekend interview in which Christie referred to GOP presidential candidate Newt Gingrich as an "embarrassment to the party."
"Poor Chris. This was a rookie mistake. He played right into the media's hands," Palin said, according to an advance transcript of an interview set to air Monday night at 10 p.m. eastern time on FOX Business Network. "Here's a host that asked Chris, 'Does Newt embarrass the party.' I think he asked him twice, and there Chris played right into it and spewed that about Newt embarrassing the party."
"Sometimes if your candidate loses in just one step along this path, as was the case when Romney lost to Newt the other night and of course, Romney is Chris Christie's guy, you kind of get your panties in a wad and you may say things that you regret later," she continued.
Palin went on to call his statement an instance of a "lack of self-discipline" on Christie's part. She also suggested that Christie had his share of moments that could be considered embarrassing to the GOP, such as "taking a state helicopter to his kid's baseball game."
While the majority of Palin's criticism toward Christie appears to be directed at his handling of the interview, she has been both talking up and defending Gingrich over the past few weeks. She said she still wasn't ready to endorse anyone following Gingrich's win in South Carolina over the weekend, but she simultaneously explained her husband Todd's endorsement of the former speaker in favorable terms.
BEFORE YOU GO