Photographer Mariano Vivanco credits his passionate aesthetic to his heritage. The Lima, Peru-native says, "Growing up in many different places - I was raised between Peru and New Zealand - influenced my overall aesthetic because I was able to take inspiration from various beautiful landscapes."
Landscape photographer, however, he is not: Vivanco is known for his photographs of models, actors and musicians which have appeared in top international magazines such as Dazed & Confused, Vogue Nippon, Numéro and many more. A man of many talents, Vivanco has also recently started working in film, as well, producing a short film for Muse Magazine in December and has published four books with Dolce & Gabbana. In this week's Photographer Diaries, Vivanco discusses what it is like to work with Lady Gaga, why he is interested in shooting nudes and who he thinks is the next generation of supermodels.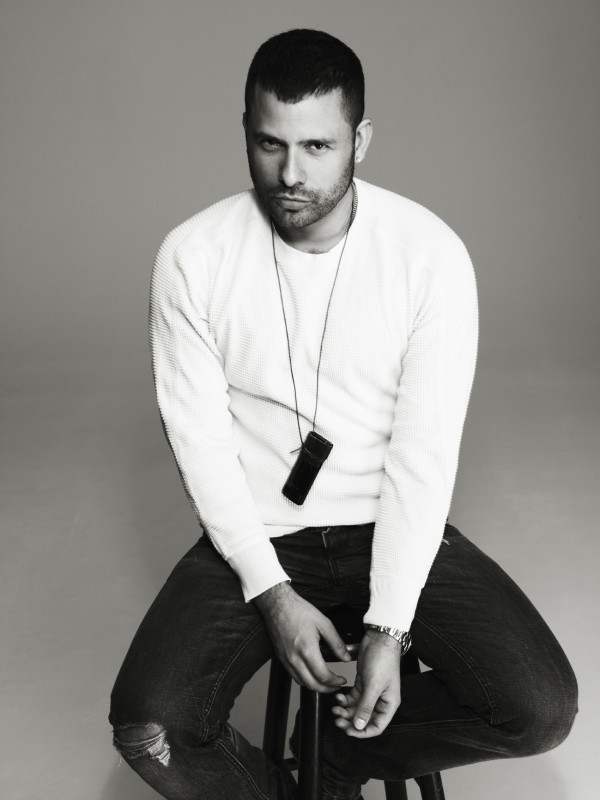 How did you first get started in photography?
I borrowed a friend's camera when I was 16. He was doing a photography course. From the minute I held it, I could not let go of it.
Were your parents supportive?
Initially, I guess no. My father is a genetic scientist and he was skeptical. But later, he saw that I was serious and he bought me my first camera. A few years after, my mother got me my first Manfrotto tripod and camera case. I will never forget their love and support for which I am very grateful for!
What was the first shoot that you did?
It's always hard to me to pin point which was the one, there have been so many little steps along the way. I would have to say some of my first shoots with my good friend and long time collaborator Nicola Formichetti for Dazed and Confused. Working for a magazine with such an enormous following definitely felt strange the first time. You feel a certain responsibility as you are shooting. Once the nerves went (I actually am always still a bit nervous before every shoot), I had a great time.
What's the strangest location you have ever done a shoot?
Above a church, using an empty space as a studio.
What's your dream location?
Somewhere I feel comfortable.
What's the most surprising thing you have seen on set?
Performers revealing their soul to me and cocoon's becoming butterflies.
A lot of your photographs feature nudity, what is it about the nude figure that you find so fascinating?
Nudes are pure. They remove much of the artifice, enabling you to see pure form. What kind of response am I looking for? Depends on what I am trying to say or make the viewer feel. Sometimes a sexual nature, sometimes its serenity, most of the time it's somewhere in between. On the whole the psychology of shooting men vs. women, at least for me, is a little different. But when I do nudes, my sensibility for both sexes is similar. I've always said that there are so many more layers when a photographer shoots women. For the most part, in our field women are objectified a lot more then men, so their layers are deeper, ie. hair, make up, clothing, psychology. I have only shot a number of female nudes, but can't wait to do more. I have to feel comfortable with my subjects, and vice versa, for the nudes to feel right.
What is it that you love about shooting in black and white?
Like the purity of the nude, black and white in my eyes is pure. It's an abstract concept that deducts the element of color for a more paired down view of shape and form. This idea of taking color away from an object or person in a photo, is in my opinion very romantic.
You work frequently with David Gandy, what is he like to shoot?
He is great! He is an interesting male to photograph, he is really like a good red wine, always getting better!
How was it to shoot Lady Gaga for i-D?
She is Gaga for a reason, highly intelligent with huge amounts of energy. She is totally original in her quest for the new, and a real sweetheart.
Have you ever worked with someone who was a complete diva?
It's interesting, because by nature I love big personalities. But I love intelligence a little more, so if a person doesn't know when to draw the line, I can switch off. Luckily, I have really been blessed and all the people that I have worked with over the years have been so cool and professional.
Who do you think is the next generation of supermodels?
Kendra Spears and Toni Garrn are winning for me. I've just done a new shoot for Muse magazine with both of them together coming out soon!!
What other photographers do you admire?
Irving Penn, Richard Avedon and Helmut Newton.

What inspired you to start working in film?
I had the intuition to start filming while doing a catalog in Milan 5 years ago. I knew this job was coming up and took the risk and bought a video camera. I was shooting some of my favorite models at the time (Sam Way, David Gandy, Rainer Evison and Matt Loewen) and felt taking photos was not enough. I also love music, so the idea to have Sam Way singing and dancing to one of my favorite songs came to me. The result was my first "fashion" video. From then on, because I loved it so much, any time I could do this I would. Eventually clients like Paciotti and Dolce Gabbana, Pull and Bear and Mugler started hiring me to make films for them. I love the fact "Fashion" films have become more important today, and what I find exciting is the fact that we can not only communicate the same vibe, message and look as the printed photo, but we can take it to the next level through film!! I find this amazing and invigorating!!!
I approach a film project in the same way that I start my photographic projects. I listen to what the requirements are and what the client wants and then I go away and imagine the job. After I get a feeling for what I will be doing, I begin researching key images that will help my assistants with the research. Once we put together a mood-board, this enables me and clients understand the job better. The main difference is that with film, the planning becomes more meticulous.
How would you describe your personal style? What is your go-to outfit to work in?
I am a bit of a fashion bore... I love fashion and love to buy it, but in reality I tend to wear the same style all the time. I definitely prefer more manly, destroyed clothes. When I am shooting, I wear comfortable clothes because I am on the floor all the time.
What achievement are you most proud of?
There have been a few highlights. My book "Uomini" for Dolce & Gabbana for sure is one of them, but usually when I do a shoot and I reach what I call "real" moments, moments that I can relate to, moments that remind me of defining moments in my life. Those are the times I am happiest with my achievements.
What is your current inspiration?
I am currently taking a lot of inspiration from pop culture and fashion from the 90s. But I always take inspiration from music, vintage photography, Facebook, Twitter and Tumblr, human relations, imagery of supermodels and life itself!!
Take a peek in our gallery below for some of Vivanco's work: