WASHINGTON -- As the Florida Republican primary campaign winds to a conclusion, the only disagreement among the polls is the size of Mitt Romney's lead. A flurry of final polls released over the weekend shows the former Massachusetts governor leading former House Speaker Newt Gingrich by margins that approach or reach double digits.
The weekend brings at least three new polls -- using different methods and conducted over slightly different dates -- that all show Romney with a big advantage.
A new poll from NBC News and Marist College gives Romney his largest lead yet. The survey, conducted with live interviewers from Jan. 25 to 27 shows Romney leading Gingrich by a 15 percentage point margin (42 to 27 percent), with 16 percent for former Pennsylvania Sen. Rick Santorum and 11 percent for Texas Rep. Ron Paul.
A second live-interviewer poll, conducted by the firm Mason-Dixon Polling and Research for the Tampa Bay Times, Miami Herald and two Florida television stations from Jan. 24 to 26, shows Romney leading Gingrich by 11 percentage points (42 to 31 percent), followed by Santorum (14 percent) and Paul (6 percent).
A third poll conducted on Saturday by the Democratic Party-affiliated firm Public Policy Polling (PPP) using automated, recorded voice interviews, gives Romney an 8-point lead (40 to 32 percent), with Santorum at 15 percent and Paul at 9 percent.
The NBC/Marist poll was the only one of the three most recent surveys to call samples of both landline and mobile telephone numbers.
With these latest polls, at least nine Florida surveys fielded since Monday now show Romney leading by margins ranging from 7 to 15 percentage points.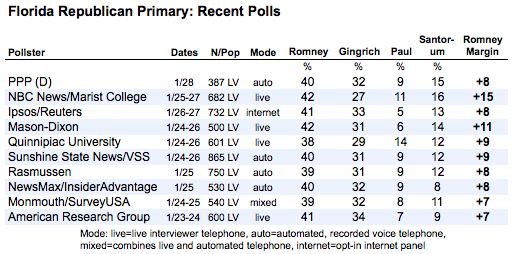 The HuffPost Pollster chart, based on all available public polls in Florida, shows Romney's support rebounding to the highest levels recorded yet and easily erasing the momentary bump for Gingrich in the Florida polls produced by his victory in South Carolina. As of this writing, it gives Romney a roughly 12 percentage point lead over Gingrich (41.7 to 30 percent). The chart also indicates a roughly 4 percentage point jump for Santorum (to 15.1 percent), with Paul steady (at 8.8 percent).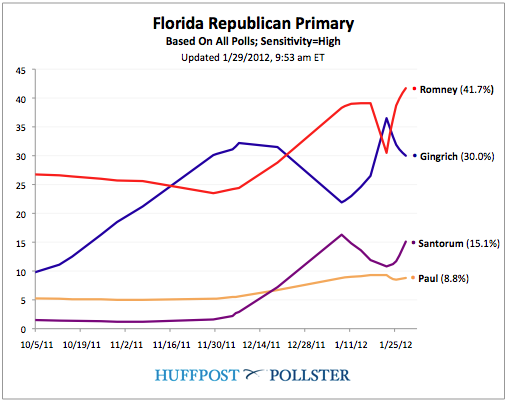 Although many voters continue to express uncertainty about their choices -- 21 percent of the voters on the PPP poll said they might still end up supporting a candidate other than their first choice -- several factors indicate that a last minute shift in Gingrich's favor is unlikely.
First, a significant number of Florida Republicans have already voted, and those early voters appear to be tilting toward Romney. The Tampa Bay Herald reports that "about 500,000" Republican ballots have already been cast early "out of a turnout that could reach roughly two million."
The Mason-Dixon survey finds that Romney leads by 12 points (47 to 35 percent) among early voters. The PPP poll gives Romney a 10-point lead among the early voters (45 to 35 percent), and estimates that more than a third of all likely voters (35 percent) have already voted. On the NBC/Marist survey, Romney leads Gingrich by a whopping 18 points (49 to 27 percent) among early voters.
To overcome the lead that Romney has already banked among early voters, Gingrich would need to win by a large margin among election day voters. On the PPP poll, Gingrich trails Romney by five points (36 to 31 percent) among those who have not voted early, so Gingrich would require an enormous reversal among voters in order to prevail.
Second, although Gingrich received a surprise endorsement from Herman Cain on Saturday, the former candidate does not appear to have the sort of profile that would swing significant support to Gingrich.
As PPP's Tom Jensen points out via Twitter, the firm found that in December, likely Republican voters in earlier primary and caucus states said they would be less likely to vote for a Cain-endorsed candidate. In New Hampshire, 7 percent said they would be more likely to vote for a candidate endorsed by Cain, but 27 percent would be less likely to support that candidate. In Iowa, 11 percent said they would be more likely, but 26 percent said they would be less likely to support a Cain-endorsed candidate.
The big leads for Romney in the final pre-election polls come as very good news for his campaign. As Brad Coker, the pollster at Mason-Dixon Polling and Research explained to the Miami Herald, "Romney would need to implode" for Gingrich to win. "If there's no 11th hour surprise," Coker said, "this race is looking right now like it's over."
UPDATE: 11:25 a.m. -- The latest Rasmussen Reports automated, recorded voice poll conducted on Saturday, Jan. 28 gives Romney a 16 point lead over Gingrich (44 to 28 percent), followed by Santorum at 12 percent and Paul at 10 percent.
The new Rasmussen poll widens Romney's margin on the HuffPost Pollster chart to just over 13 percentage points more than Gingrich (42.4 to 29.3 percent), with 14.5 percent for Santorum and 9.3 percent for Paul.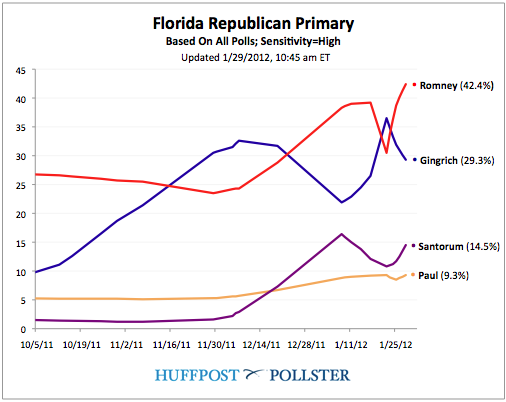 BEFORE YOU GO