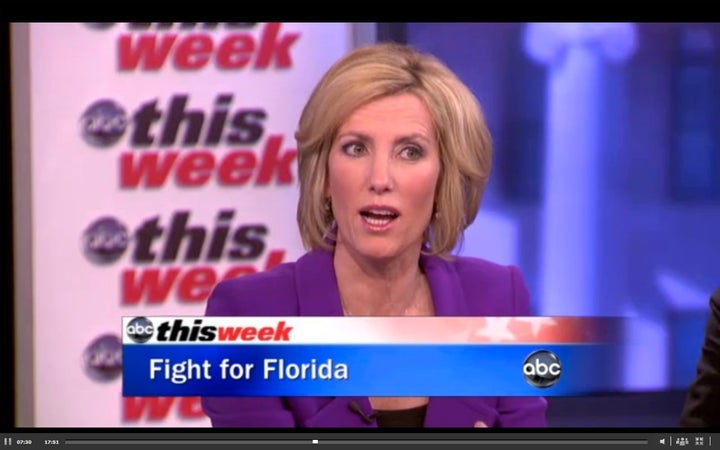 Laura Ingraham gave a pessimistic view of Mitt Romney's chances at the presidency during an appearance on Sunday's "This Week."
The conservative radio host joined George Will, Donna Brazille and former Obama economist Austan Goolsbee at the ABC show's roundtable. The group was discussing the issue of Romney's tax returns, as well as his nuclear strategy against Newt Gingrich. Ingraham seemed troubled by both tactics. When host Jake Tapper wondered whether the tax returns would become old news, she scoffed, "of course it doesn't become old news!"
Then, she said that she had been at the elite Alfalfa Club dinner the night before, and had seen Obama "wow a huge crowd" there. She warned Romney that it would be much more difficult to best the cash-heavy Obama than the relatively poor Gingrich.
"A bunch of us sitting next to each other-- very prominent conservatives, former Bush Cabinet members -- we're looking at each other going, 'I don't know if Mitt Romney can beat him,'" she said.
"He's got to bring his A-game, and he can't just be, you know, the kind of thing he's doing with Gingrich, because Obama's operation is really smart," Ingraham said. "And I think they're going to run a tough campaign."
WATCH:
BEFORE YOU GO
PHOTO GALLERY
Mitt Romney 2012