"The Little Mermaid" has nothing on Katy Perry.
The 27-year-old singer was transformed into a glamourous version of the mythical sea creature in a new ad for ghd's Air hairdryer, shot by renowned photographer David LaChapelle.
Although she's currently sporting some bright blue locks, we have to say we love the cotton candy-colored tresses she rocked both in this ad and last fall.
Katy is no stranger to both wacky and glamorous looks and she loved the concept behind the shoot.
"David LaChapelle made the set amazing," she told Marie Claire. "It was fun -- I got to have purple hair which foreshadowed the real purple hair I had last fall. It's as if Lisa Frank had done 'The Little Mermaid'." The singer did admit she's "such a fan of Disney movies," and is considering keeping the mermaid costume as an option for next Halloween.
Katy shot the ad back in July and she definitely had a ton of fun dressing up. At the time, "planking" was all the rage and the pop star tweeted a photo of herself, in full costume, pulling off the Internet meme of the moment. She tweeted, "PROPER planking FTW! #itswhatArielwoulddo."
Of course, Katy is not the only one who has donned a fish tail. Lady Gaga also transformed herself into a mermaid in her "You and I" video. Gaga also caused a bit of a stir at her Sydney performance last July, when she turned up on stage as a mermaid in a wheelchair. The singer suffered backlash for the wheelchair stunt -- both from disabled groups and from the legendary Bette Middler, who wanted credit where credit was due.
Middler took to Twitter after Gaga's performance, writing, "I'm not sure @ladygaga knows that I've performed my mermaid in a wheelchair for millions of people -- and many of them are still alive."
The divine Ms. M added,"Dear @ladygaga if you think a mermaid in a wheelchair seems familiar-it's because it is! You can see it on youtube 24/7-with ME performing it ... I've been doing singing mermaid in a wheelchair since 1980 -- You can keep the meat dress and the firecracker t*ts -- mermaid's mine."
So who makes the best mermaid? Katy, Gaga, or Bette?
PHOTO: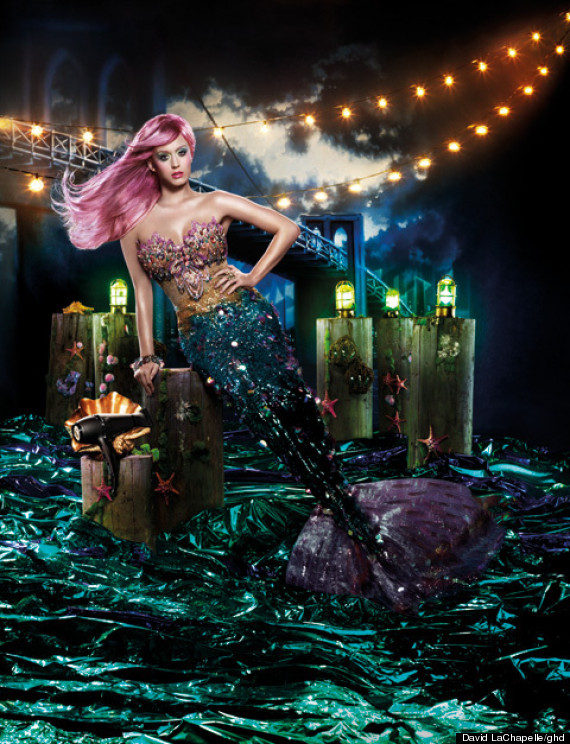 BEFORE YOU GO