It looks like Scarlett Johansson and flame Nate Naylor are ready to throw caution to the wind with their budding romance. The pair were outed as a couple earlier this week when paparazzi spotted them walking rather close in New York City. According to PEOPLE, the pair have been together nearly five months.
Life & Style magazine took the photographic evidence of the couple's romantic relationship one step further, obtaining a picture of the pair enjoying a low-key breakfast at Madison diner late last month.
"They were very comfortable and happy together while eating," an onlooker told the mag. It seems that Johansson and her "regular" guy "couldn't stop smiling" during their extended brunch.
Naylor, an advertising executive in New York City, may be a departure from Johansson's typical A-list celebrity caliber of man, but perhaps a low-profile love life is exactly what the actress is looking for. Despite Johansson and ex-husband Ryan Reynolds' attempts to keep their split and future love interests out of the public eye, their high-profile lives drew more attention than either bargained for. The 27-year-old actresses' relationship with Sean Penn drew many headlines during their brief love affair.
For more dirt on Scarlett and her new man, head over to Life & Style.
PHOTO: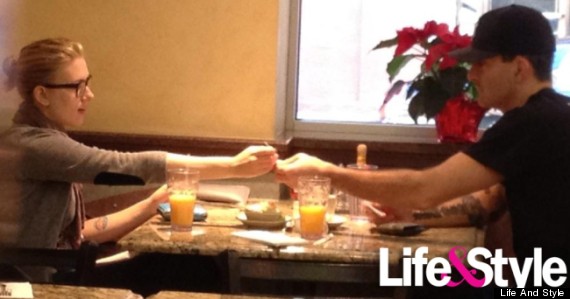 Check out some more photos of Scarlett below!
PHOTO GALLERY
Scarlett Johansson
BEFORE YOU GO