We can't even count the number of times we've needed a small piece of paper to jot down a phone number or record a miscellaneous thought just to find that we have nothing to write on. But, this Craft Of The Day ends all that. Pocket-sized notebooks are incredibly useful and they take up virtually no space. Plus, they're incredibly simple to make, requiring little more skill than cutting and stapling. Keep reading for the how-to.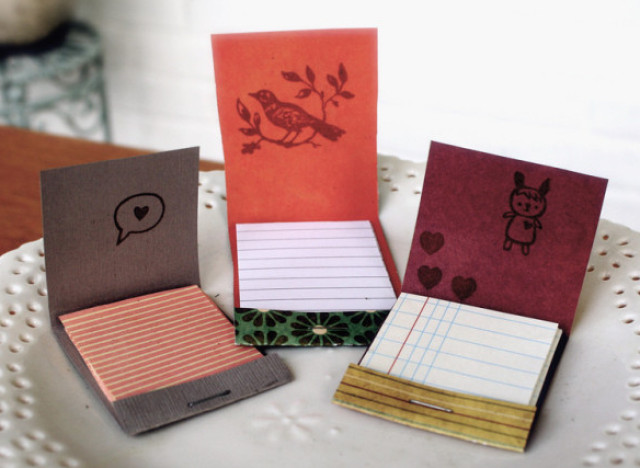 Flickr Photo by pink.polka
What You'll Need
Matchbook (or card stock)
Paper (lined or blank -- your choice!)
Scissors
Stapler and staple remover
Ruler
Stickers and markers (optional)
How To Make It
1. Take hold of your matchbook and remove the staple keeping the matches in place. (Or, make your own matchbook using card stock by cutting a rectangle to roughly 4 1/2-inches by 1 1/2-inches and then folding it.)
2. Measure the surface area of your matchbook and cut your paper down to the appropriate size (slightly smaller than the width/height of the matchbook itself).
3. (Optional) Run your pages through an unthreaded sewing machine so it is easier to tear out of the matchbook when stapled down.
4. Place the paper under the lip of the matchbook and staple everything together.
5. Personalize your notepad with some drawn on decorations or stickers!
And, be sure to check out the other great crafts in our Craft Of The Day slideshow below.