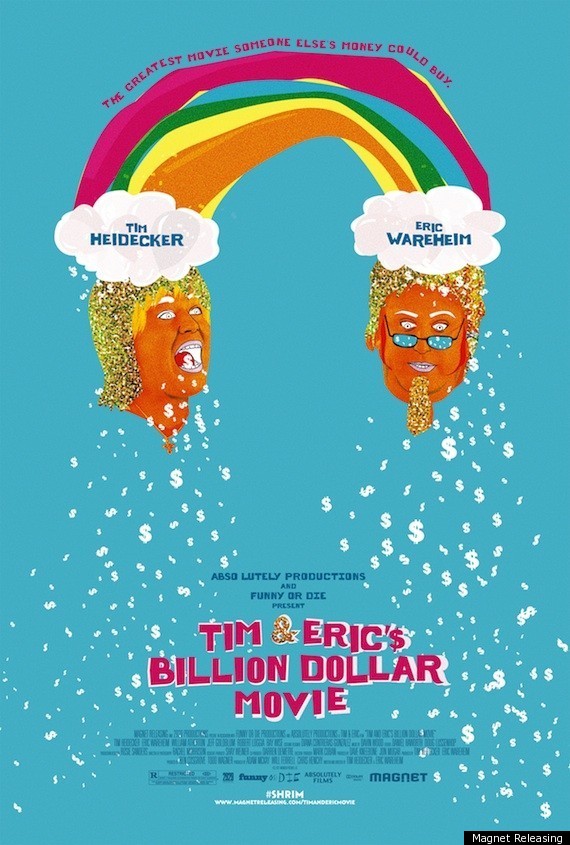 On Monday, "Tim and Eric's Billion Dollar Movie" revealed a brand new poster, seen above. The comedy duo, previously known for their shows on Adult Swim, have been tirelessly promoting the film in preparation for the theatrical release of their first film on March 2 (although it's already available on VOD and can be downloaded on iTunes).
And with good reason: "Billion Dollar Movie" is the first feature film from Funny Or Die Productions and has the backing of several well-known investors, making it possibly the first venture in history whose success is important to both Will Ferrell and Mark Cuban.
The film premiered at Sundance last month, and based on the reaction from the audience -- or at least, the part of the audience that made it through the entire film -- the film should be a treat for those who come to expect Tim and Eric to be one of the few comedy acts today that are able to deliver true shock and surprise. (Nathan Rabin of The A.V. Club said that the film includes "one of the most graphic, viscerally unnerving sex scenes in recent memory," which shouldn't be a surprise to anyone who has seen the terrifying red-band trailer.)
Heidecker and Wareheim also got dozens of their celebrity friends to sign the "Billion Dollar Movie Pledge," a written promise to only watch their movie through legal means -- even though Adult Swim fans may be more likely to know their way around a torrent site than the average Internet user.
Starring Heidecker and Wareheim, with appearances from Ferrell, Zach Galfianakis, John C. Reilly and Jeff Goldblum (as "Chef Goldblum"), "Tim and Eric's Billion Dollar Movie" looks to be a cult comedy in the making.