Flying cross country is all in a day's work for most airlines, but tracing your company's logo with your flight path? That's clever marketing.
SCROLL FOR PHOTO
The 787 Dreamliner (Flight ZA236) drew the Boeing logo during a 19-hour test flight between Washington and Iowa, Gizmodo reports.
A spokesperson for Boeing told Wired UK the flight, which took place between Feb. 9 and Feb. 10, was "coordinated with the many air traffic control centers, choosing the routing to avoid restricted airspace."
Flight Blogger Jon Ostrower noted he was tipped off to the plane's intended path while sitting at Houston International Airport on Feb. 9.
According to Business Insider, the 19-hour journey is the 787's longest flight yet. And it isn't the company's first attempt at skywriting either: The 747-8 Freighter traced a "747" over several states during another test flight in August, Wired observes.
The 787 Dreamliner boasts lighter-weight composite materials and consumes less fuel, according to the Associated Press. Boeing recently discovered a glitch on fuselages, but said the problem should not affect production.
The Dreamliner made its first commercial flight in October, the BBC reports. United Continental is expected to be the first U.S. airline to fly the plane in 2012.
Via Gizmodo

PHOTO: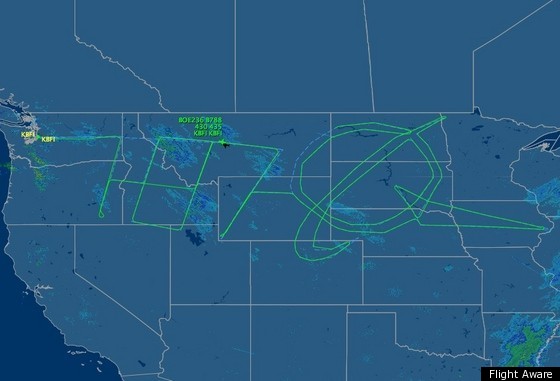 BEFORE YOU GO