We're not sure when the Victoria's Secret Fashion Show came to represent the paragon of class. But apparently there is a certain level of refinement necessary to qualify for that sparkly spectacle of a runway -- and Sports Illustrated's latest swimsuit star, Kate Upton, doesn't have it.
"We would never use" Upton, Sophia Neophitou told the New York Times. Neophitou is a stylist, a fashion editor and the brains behind the Victoria's Secret Fashion Show lineup, making the casting decisions for the televised event.
Why doesn't Upton make the cut?
"She's like a Page 3 girl," Ms. Neophitou said, referring to the scantily clad voluptuous women featured in The Sun, a London tabloid. "She's like a footballer's wife, with the too-blond hair and that kind of face that anyone with enough money can go out and buy."
Apparently Sports Illustrated didn't think so, choosing her as 2011's Rookie of the Year and placing her on the 2012 cover unveiled on Monday. To be fair, Upton makes no pretense to being high fashion or elegant in any way. "What can I say?" she told the Times. "I'm relatable."
One reason to relate to the 19-year-old model is her figure. While presenting the Top Ten on "The Late Show With David Letterman" on Monday night, Upton stood out amongst her other Swimsuit Issue co-stars as the buxomest of the bunch. According to the Times, her measurements are a healthy 36-25-34. Yet she was the star of the night, the covergirl whose name everyone now knows.
We have a feeling Victoria's Secret might come around. And if they don't? We think Upton will fair just fine.
Read more about Upton's unlikely rise at NYTimes.com and see more about the new Sports Illustrated Swimsuit Issue here.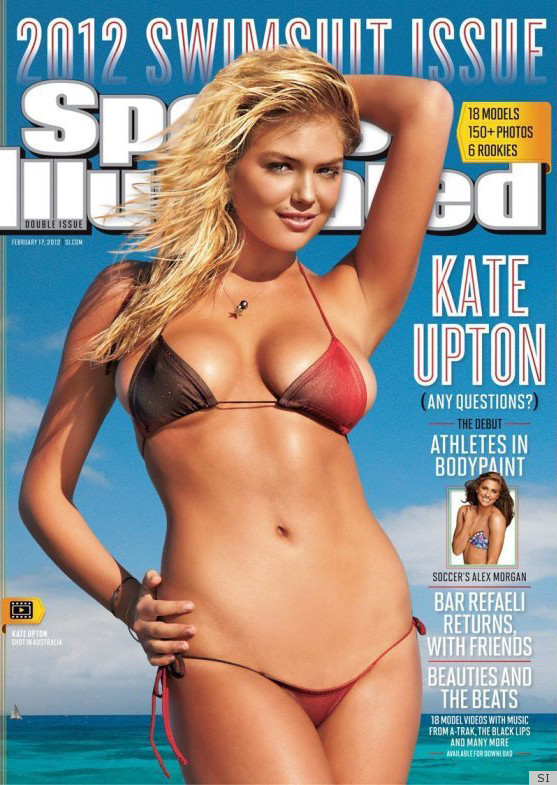 BEFORE YOU GO