The constantly pearl-clutching Advertising Standards Authority in Britain has dropped the ban hammer on more ads that it deems too racy for public consumption.
The latest victim? Some tease-y ads for budget airline Ryanair, which feature hot flight attendants wearing only their skivvies and boasting the slogan, "RED HOT FARES & CREW!"
The lingerie wasn't appreciated by everyone, though. ASA decided to shut down the ads, which ran in several newspapers, after receiving 17 complaints that they were too provocative. They released the following statement:
"We also considered that most readers would interpret these images, in conjunction with the text ... and the names of the women, as linking female cabin crew with sexually suggestive behaviour."

"Although we acknowledged that the women in the ads had consented to appear in the calendar, we considered that the ads were likely to cause widespread offence, when displayed in a national newspaper, and therefore concluded that they breached the [advertising] code."
Part of the impetus for the ban was an online petition filed asking Ryanair to ban the ads, which has since gotten over 11,000 signatures. Writes the woman who filed it:
I'm a member of an airline Cabin Crew and what's more I love my job. My work colleagues, many of whom are male, work hard with me to ensure the safety of our passengers. Safety is our number one priority, not the brand of our underwear.
Are the lingerie-themed ads provocative? Sure. Is that worth banning them? We'll let you decide; check out one of them below. (Also below: our slideshow of other recent banned ads.)
Scroll down for more photos.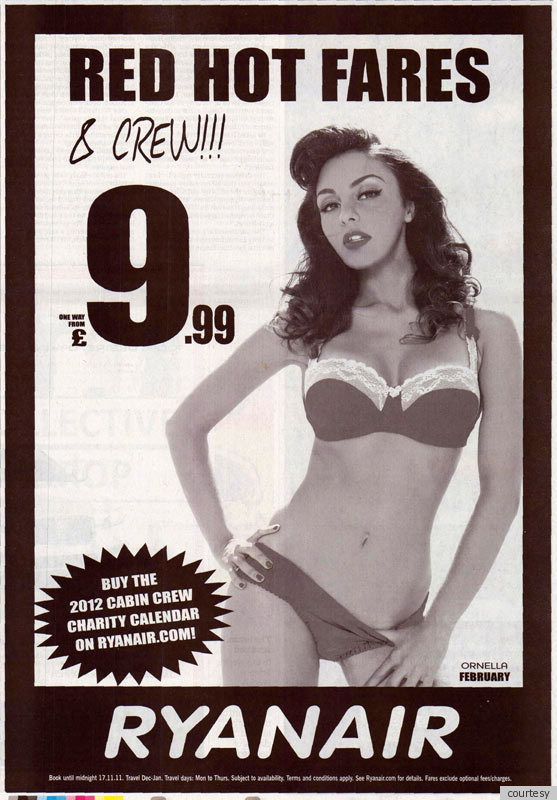 PHOTO GALLERY
Banned Ads (NSFW)