Production has halted on "The Colbert Report" for Wednesday and Thursday, according to fans who had tickets for the rest of the week's tapings.
Third Beat and Mediaite are reporting that audience members were informed late Tuesday night via email, "Due to unforeseen circumstances, we have cancelled our taping for the date of your ticket reservation, February 15, 2012." And ColbertNation.com has been updated with a rerun scheduled for Thursday night's episode.
02/19/2012 2:25 PM EST
Colbert tweeted a message of thanks to his fans Friday
My family and I would like to thank everyone who has offered their thoughts and prayers. We are grateful and touched by your concern.

— Stephen Colbert (@StephenAtHome) February 18, 2012
02/16/2012 1:40 PM EST
What we actually know at this point
Since there is now a lot of misinformation out there, here's a recap on what we actually know to be true about "The Colbert Report" hiatus:
The show did not air last night and will not air tonight
Reruns are airing in place of those two shows
Production "should resume soon." No further explanation or details have been provided.
Here are a few things that have been said that are either not true or unproven:
Stephen Colbert suspended production: All we know is that production on "The Colbert Report" has been suspended. Whether it was the choice of the host, Comedy Central or a mutually agreed upon decision is unknown.
Stephen Colbert has been suspended: This, too, is most likely a misinterpretation. To our knowledge, it is the production has been temporarily suspended, and not the host.
"The Colbert Report" has been cancelled: According to Comedy Central, this is merely a "temporary halt of production."
Stephen Colbert was eaten by a bear: This is not true.
02/16/2012 1:10 PM EST
Fans sending well wishes to @StephenAtHome
As concern that a serious family illness is the cause of the sudden absence of "The Colbert Report" this week, fans have begun turning their speculation into heartfelt well-wishes for the comedian and host:
Everyone should stop what they're doing and send their well wishes and prayers to this man @StephenAtHome

— Super Psyguy (@SuperPsyguy) February 16, 2012
02/16/2012 1:05 PM EST
'Colbert Report' staffer does not know why show is off air
Comedian and "Report" audience warm-up guy Pete Dominick is clearly being inundated with questions as to his boss' whereabouts. Unfortunately, Dominick doesn't know anything either:
Yes I work at the Colbert Report and No I dont know why the show is off for 2 nights.

— Pete Dominick (@PeteDominick) February 16, 2012
02/16/2012 12:54 PM EST
Wall Street Journal citing a family matter
"Stephen Colbert has suspended production of his satirical comedy show temporarily because of an emergency in Mr. Colbert's family, according to people familiar with the show."
02/16/2012 12:51 PM EST
Well, THAT's a relief
Just checked the New York State inmate database, can confirm Stephen Colbert is not in jail.

— Matthew Keys (@ProducerMatthew) February 16, 2012
02/16/2012 12:44 PM EST
Speculation now focused on a family illness
Echoing the suspicion of many fans, writer Lisa Rogak offered this insight:
as author of #Colbert's biography, my speculation is that his mom or inlaws fell ill...@thedailybeast: Colbert Suspends Show for Week...

— Lisa Rogak (@lisarogak) February 16, 2012
Rogak is the author of And Nothing But the Truthiness: The Rise (and Further Rise) of Stephen Colbert, which includes detailed information about Colbert's family. Many are also citing the silence of Colbert's normally active Twitter feed as further evidence that a personal emergency is the reason for the hiatus.
02/16/2012 12:23 PM EST
HuffPost commenter underlines the desire for more information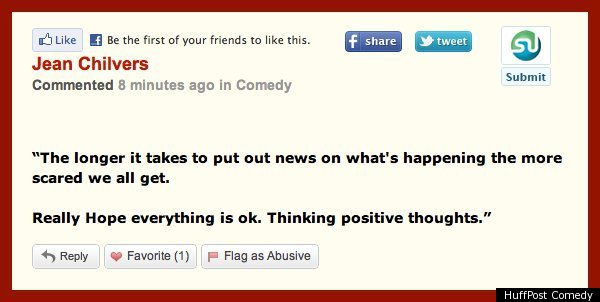 PREVIOUSLY: So far, no explanation for the change in production schedule has been given, which has already led to much speculation. According to Third Beat: "The Daily Show has suspended production last-minute due to personal reasons twice during Jon Stewart's reign: once when his second child was born, and once when a staff member passed away suddenly. If this week's reasons are of a similar nature, it would be a first for the Colbert Report."
Many fans took to twitter late Wednesday night and Thursday morning after learning of the cancellations to express their hopes that the host and his family and staff were ok.
Colbert made a surprise drop-in on "Late Night With Jimmy Fallon" on Tuesday night and later tweeted a Valentine's message to his followers.
We will update this post as more information becomes available.
BEFORE YOU GO