By Irina Vinnitskaya
(click here for original article)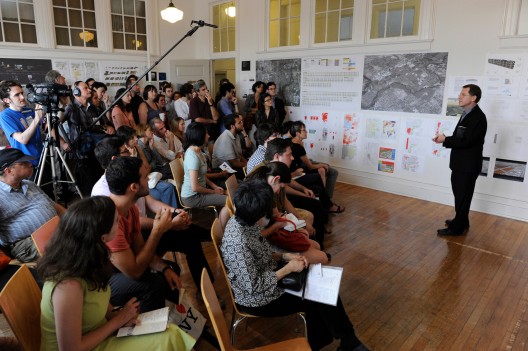 Photographs by Don Pollard. © 2011 The Museum of Modern Art.
Starting today, through July 30, New York's Museum of Modern Art (MoMA) will be running an exhibit featuring the proposals of five interdisciplinary studios that were asked to re-think and re-invent the future of housing in the midst of the foreclosure crisis that remains a threat to many Americans and their homes. Over the Summer of 2011, WORKac, MOS Architects, Visible Weather, Zago Architecture and Studio Gang Architects selected five "megaregions" across the country on which to speculate the form that housing could take: physically, socially and economically. Late this summer, ArchDaily has provided coverage while the work was in progress. Opening today, the results of those speculative efforts will be presented at the MoMA as part of an exhibit called Foreclosed: Rehousing the American Dream. The Open Studios exercise was organized by Barry Bergdoll, MoMA's Philip Johnson Chief Curator of Architecture and Design, with Reinhold Martin, Director of Columbia University's Temple Hoyne Buell Center for the Study of American Architecture.
Read on for more on the proposals and details about the exhibit.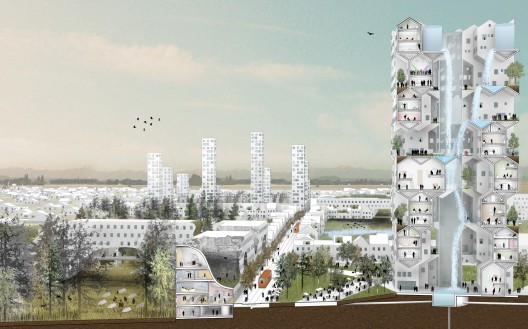 Courtesy of WorkAC
Throughout the process, MoMA and P.S.1 have been running a blog about the progress of the projects. The five participating architectural teams presented their work at Foreclosure Open Studios. They are:
WORKac's Amale Andraaos and Dan Wood selected Salem-Keizer, Oregon for their transformation of 200 acre big box retail site. The presentation of the project at Open Studios can be seen here.
Hilary Sample and Michael Meredith presented the proposal by MOS. Their site was located in The Oranges, New Jersey, a suburban community heavily intersected by infrastructural networks. A video of their presentation can be viewed here.
Michael Bell presented Visible Weather's proposal which chose to look to Temple Terrace, Florida and its adjacency and border conditions with Tampa. Watch the presentation here.
Andrew Zago presented Zago Architecture's transformation of Rialto, California explored how new subdivisions could develop out of the existing conditions of surburbia. The video can be found here.
Jeanne Gang presented Studio Gang's vision for the quintessential 1920s American suburb – Cicero, Illinois – hit hard by the foreclosure crises. Watch it here.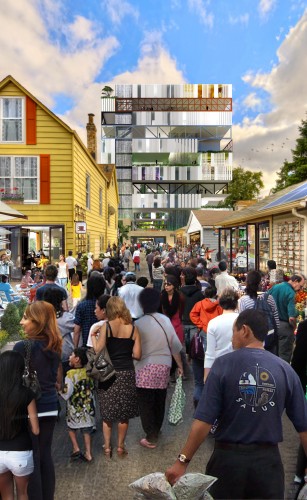 Studio Gang Architects + Joseph Lekas Photography
The exhibit presented by the MoMA will show the final result of the investigation and hopefully continue to promote speculative design and potential solutions for the ever-present concern about housing where "thinking about the relationship between land, housing, infrastructure, urban form, and that which is considered "public" about today's cities and suburbs" will continue to be questioned.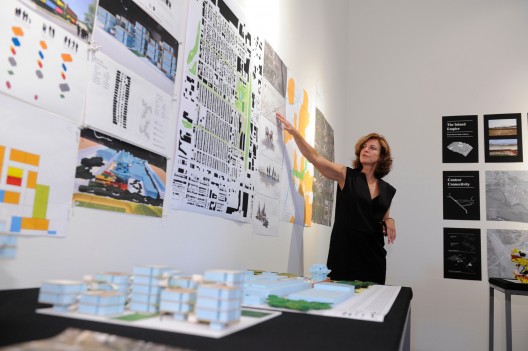 Photographs by Don Pollard. © 2011 The Museum of Modern Art.
Also going on at MoMA is the Plywood: Material, Process, Form exhibition. The MoMA is located at 11 West 53 Street, New York, NY 10019. Hours are Wednesday through Monday: 10:30 a.m.-5:30 p.m. Friday: 10:30 a.m.-8:00 p.m. Closed Tuesday. Admission is free for all on Target Free Fridays 4 p.m. – 8 p.m.