MSNBC host Willie Geist had a very busy twelve hours, starting with his Wednesday night appearance on Bravo's "Watch What Happens Live."
Geist, who sported Jeremy Lin Knicks gear, appeared on Bravo chief Andy Cohen's late night show with rap star Lil' Kim. Though it appeared as though Geist and Lil' Kim were a bit of an odd duo, the show was filled with festive and highly entertaining shenanigans. Geist and Lil' Kim played a game called "Pin The Pasty On The Willie," in honor of Lil Kim's infamous MTV Video Music Awards outfit. Cohen, Lil' Kim, and Geist also took a shot off the famous shot ski.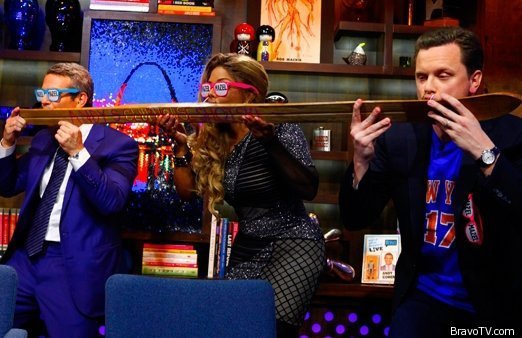 Geist then moved to his usual daytime gig, hosting MSNBC's "Way Too Early" and "Morning Joe" from 4:30 - 9:00 a.m. Cohen appeared on "Morning Joe" to discuss Bravo's reality TV franchise, "The Real Housewives." Cohen weighed in on why he thinks Americans are fascinated with watching wealthy housewives on television.
At this point, Geist had been on more than four and a half hours of television and it was only 9:00 a.m on Thursday. After he stepped off the set of the "Morning Joe," he crossed Rockefeller Plaza to co-host the 9:00 a.m. hour of the "Today" show. "Today" host Savannah Guthrie tweeted Geist early Thursday morning, asking if he was going to make it to "Today" considering his late night.
Geist responded and wrote, "Yes! Doing every NBCU show in 12 hours." Bravo and MSNBC are both owned by NBC Universal and Comcast.
View a clip of Geist on "Watch What Happens Live" above, and the "Morning Joe" segment below.
BEFORE YOU GO