Jayson Keeling's photographs are violent and sexy, glam and grotesque, they invoke stereotypes only to have them come crashing down. His work pulls from different worlds, jamming them all into the same frame without any wiggle room. Keeling started his career as a photographer working in fashion, film, music and porn, thus familiarizing him with a diverse cannon of visual lingos to reference and reject.
Born in Brooklyn to Jamaican parents, Keeling has always worked in a realm of in-between, of uncanny cultural collaging, so everything he creates is neither here nor there. His new exhibition "See Jungle! See Jungle! Go Join Your Gang, Yeah. City All Over! Go Ape Crazy" (the title is taken from Bow Wow Wow's second studio album) scrapes the residue off of cultural iconography and presents it in all its griminess. The images draw off the viewer's twisted assumptions, then twists them a bit further.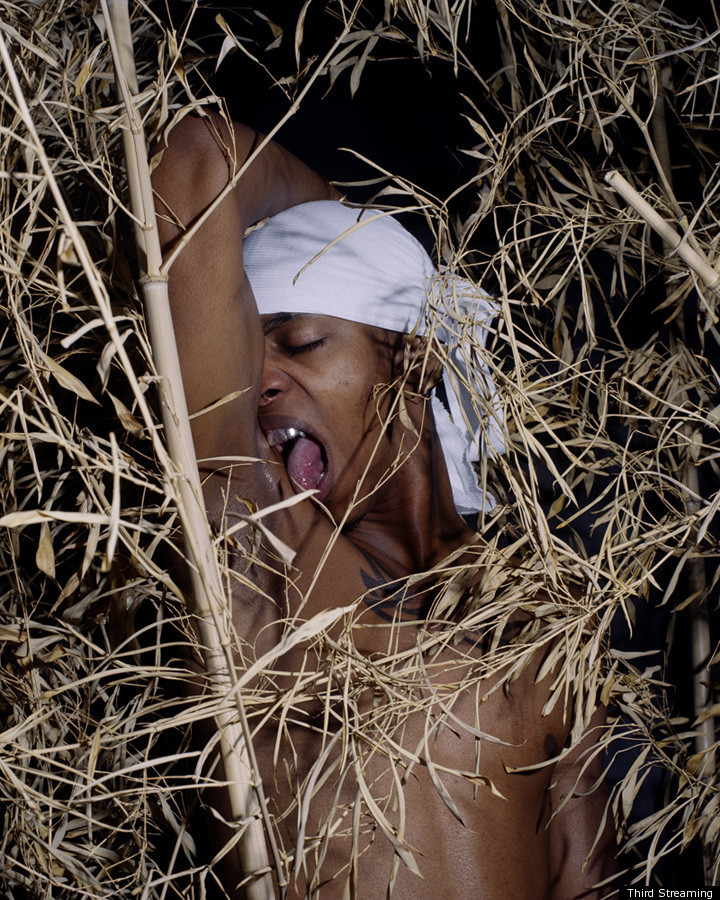 The 1981 Bow Wow Wow album in question is not very good, but the original album cover featured the group enjoying their own version of Manet's luncheon on the grass. Right away, Keeling's visual cover of Bow Wow Wow's audio cover of Manet depicts the cultural cannibalization Keeling invokes in his works -- not to mention the fact that the band was frequently accused of being cultural cannibals themselves.
Keeling's collection invites viewers into a surprising urban jungle, where stereotypes about masculinity, race, homosexuality and exoticism are jumbled up with the different cultural arenas of hip-hop, advertising, punk, Pop Art and New Wave film. Gritty imagery is presented in jazzed up aesthetics, exposing the techniques we use to turn danger into taboo into cool.
"See Jungle! See Jungle! Go Join Your Gang, Yeah. City All Over! Go Ape Crazy" is a cultural overload which can shock even the jaded contemporary gallerygoer. (And then it might make you feel strange for being shocked in the first place.) Go on, we dare you, step into the jungle wearing a pirate suit, and find your inner Annabella Lwin.
The exhibition will show at Third Streaming, LLC until February 25.
PHOTO GALLERY
Jayson Keeling