Are you hosting an Oscars party this Sunday? Los Angeles-based stylist Tabitha Evans-Johnson sure is. In fact, the creative mind behind blog Glitter & Ganache is already leading the pack for adorable Oscar party ideas. So much so that we asked Tabitha to share with us how she brought her party to life using a few key decorations, some choice snacks and beverages, and a lot of glitter. She also offers up great tips to throw a simple yet successful last-minute Oscars affair. Keep reading to see how she did it.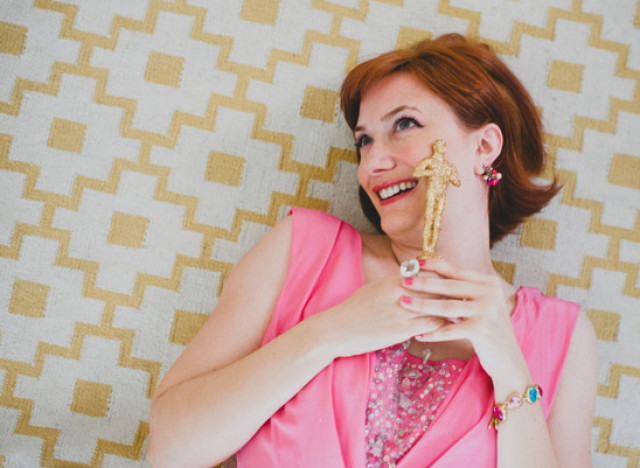 Photo by Heidi Ryder of Glitter & Ganache
Stylelist Home: How much time did it take you to throw the party together?
Tabitha Evans-Johnson: Not very long, truthfully. I tried to keep it pretty simple and concise. It's all jewel tones and just a few elements really: The flowers and the little vases, the glittery Oscars and the flags, and those little garlands, so it's all pretty simple stuff to make. I mean I made it all at night after work.
SH: Speaking of jewel tones and looking at the flower arrangements and ballots, they're so vibrant and bold; why did you go with that color palette?
TEJ: My initial inspiration was actually the dress that I'm wearing in the pictures. It's that sort of '60s bright pink and gold brocade, and so I just went from there and decided that I wanted to do kind of a '60s-inspired vintage [party], but also like with a little more pop because I think that a lot of times vintage, especially with all of the styled vintage wedding shoots and stuff out there, goes pastel-y.
I think that if you start with something you really love, be it a piece of clothing or a bright floral arrangement you saw ... if you keep it simple and repeat those elements a few times, you end up with something pretty cohesive that looks like it took more work than it probably did, or at least that's hope.
SH: What were some of the important elements that went in to creating such a fun Oscars party?
TEJ: For me, having a stationery designer do the ballots, which you can download so you don't need a stationery designer, but I think a ballot is a pretty fun thing to have at an Oscars party. Everybody gets to get involved. They get to vote. It gets competitive. So it was really important to me to have a fun ballot because the only ones I've seen or had at parties are like 8 1/2" x 11" printed-out lists, which isn't very fun. Also, a good cocktail setup is a key element for a fun party. And we just did something really simple; they're just champagne cocktails.
SH: The Oscars is definitely a glitzy affair and just looking at your blog, we can tell you're a fan of glitter. How do you incorporate glitter tastefully without going overboard?
TEJ: It's definitely easy to over glitter. Again, I think it's just having a few key coordinated elements. I would have loved to just sprinkle glitter all over the entire living room, but instead I stuck to the garlands and the vases, which I think still look pretty tasteful. I think keeping it all in a few colors or a single color helps. Like all the vases, I painted those little gold polka dots, but they are just all gold; that way the flowers kind of shine.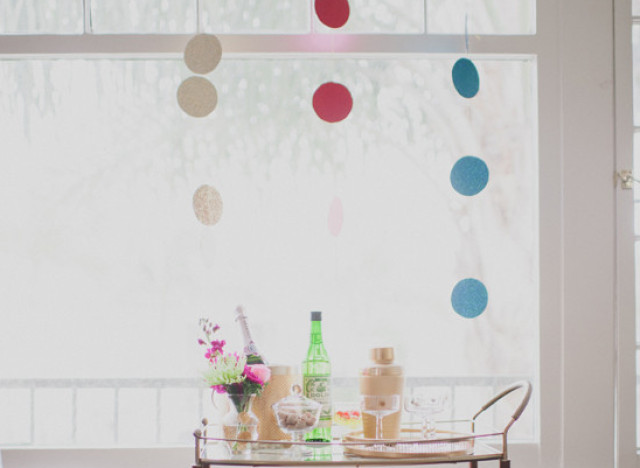 Photo by Heidi Ryder of Glitter & Ganache
SH: The photos of the bar, cheeses and chocolate look awesome. How did you decide what kind of food to serve?
TEJ: I decided to keep it simple and kind of girly ... as much as I hate to say that, but I mean who doesn't like cheese and chocolate. The little tiered cake is actually a triple cream. The chocolate is a lavender fudge, and we just did apps. I sort of think it's a lot easier to have something thats's cohesive and feels kind of fancy if you keep it minimal. A few simple design elements combined with a few delicious nibbles and lots of champagne (or the beverage of your choice) will let you relax and enjoy your own party, and your guests will have a better time too!
SH: What advice can you offer to someone who wants to throw a last-minute Oscars party?
TEJ: I think lots of times it's overwhelming to throw a party, especially at the last minute, because people feel like they have to go crazy: Lots of decorations, lots of food, lots of beverage choices, and so on. So I think my most important suggestion to make it fun and simple for everyone (hostess included) is actually to limit yourself. Pick a few key elements that will really shine or sparkle. I would try to pick whatever you have time for that's going to pop the most. Like going to the flower mart and putting all those vases of flowers together took probably the least amount of time of anything I did, but I think it feels pretty festive. And, of course, the most important thing is to have a good group of friends around.
To see more of Tabitha's '60s-inspired Oscars party, click through the slideshow below. And, head over to Glitter & Ganache for more party tips and DIY ideas and inspiration.